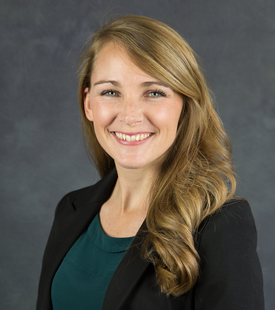 Ashley A. Di Lorenzo
Office:
Kalispell
Ashley Di Lorenzo is an Associate in the firm's Kalispell office. Ashley graduated from the University of Nebraska College of Law in 2012. She received her undergraduate degree in Psychology with High Distinction from the University of Nebraska-Lincoln in 2008. While in law school, Ashley spent a summer studying international business law at the Beijing Foreign Studies University in Beijing, China.
Ashley enjoys spending her free time hiking, skiing, traveling, and spending time with her husband Chris.
Practice Areas
Collections
Personal Property Foreclosures, Claim and Delivery, Replevin, and Injunctive Remedies

Advice and representation in employment litigation, including wrongful discharge and discrimination matters
Employee discipline and termination advice
Employee screening, hiring practices and policies
National Labor Relations Act

Medical Malpractice Defense
Negligence
Personal Injury
Product Liability Defense

Access, Title and Property Disputes

Estate Planning
Guardianships, Conservatorships and Disability Planning
Probate, Estate and Trust Administration
Bar Admission
Montana, 2013
U.S. District Court of Montana, 2013
Colorado, 2012
Wyoming, 2014
North Dakota, 2014
Education
2012 – J.D., University of Nebraska College of Law
2008 – B.A. with High Distinction, Psychology, University of Nebraska-Lincoln
Prior Experience (Employment)
Prior to moving to Montana and joining the firm, Ashley was a Contract Attorney for Fraser Stryker PC LLO in Omaha, Nebraska.
Honors & Awards
CALI Award in Civil Clinic
Professional Affiliations
State Bar of Montana
Northwest Montana Bar Association
Colorado State Bar Association
Presentations & Publications
Tess M.S. Neal, Ashley Christiansen, Brian H. Bornstein, Timothy R. Robicheaux (2012): The effects of mock jurors' beliefs about eyewitness performance on trial judgments, Psychology, Crime & Law, 18:1, 49-64