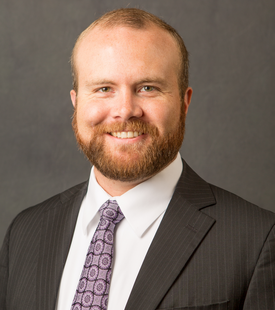 Nicholas T. Haderlie
Office:
Sheridan
Nicholas (Nick) T. Haderlie is an Associate in the firm's Sheridan office. His practice focuses on energy, environment, and natural resources throughout the Rocky Mountain region. Mr. Haderlie represents industry clients in a variety of energy-related regulatory, transactional, and civil litigation matters. His experience includes preparation of title opinions, right-of-way acquisition, development contract negotiation, and the purchase and sale of oil, gas, and other minerals interests.
With a strong background in environment and natural resources, he brings a unique perspective on possibilities for conflict resolution between energy resources. Specifically, Nick is interested in the relationship between oil/gas and coal development, wind and hydrocarbon development, and the general interface between new energy possibilities and the continued need for developing traditional energy resources.
In his off time, Nick enjoys spending time fishing with his family, traveling, and studying martial arts. He also enjoys volunteering and serves on numerous boards for non-profit organizations and professional associations.
Practice Areas
Business Organizations
Litigation
Mergers, Acquisitions & Other Business Transactions

Creditors' Rights & Bankruptcy
Collections
Debt Restructuring and Workouts
Personal Property Foreclosures, Claim and Delivery, Replevin, and Injunctive Remedies
Real Property Foreclosures & Landlord-Tenant Disputes

Energy & Minerals Projects & Transactions
Mining – Hard Rock, Coal and Other Minerals
Pipelines, Transmission Lines and Other Linear Facilities

Mergers & Acquisitions
Renewable Energy
Permitting and Environmental
Associated Transmission Lines
State and Local Taxes and Local Government Impact Fees
Title and Real Estate Related Matters

Oil and Gas
Lobbying, Regulatory and Administrative Affairs
Environmental
Litigation
Mergers and Acquisitions
Oil and Gas Conservation Commission
Oil Gas Exploration Equipment
Title Examination

Environmental Law
Clean Air Act, Clean Water Act, and State Equivalents
Comprehensive Environmental Response, Compensation and Liability Act (CERCLA or Superfund), Resource Conservation and Recovery Act (RCRA), and Solid or Hazardous Waste
Eminent Domain
Endangered Species Act (ESA) and Migratory Bird Treaty Act (MBTA)
Environmental Due Diligence
National Environmental Policy Act (NEPA) and State Equivalents

Regulatory and Administrative Affairs

Mining – Hard Rock, Coal and Industrial Minerals
Land and Mineral Acquisition
Litigation and Administrative Proceedings
Merger and Acquisitions
Mine Development and Operation
Mining cart in silver, gold, copper mine
Title Review and Curative

Real Estate
Access, Title and Property Disputes
Commercial Real Estate Acquisition, Sales and Leasing
Condominium and Homeowners' Associations
Development, Zoning and Land Use
Farm and Ranch Transactions
Real Estate Financing and Security Devices
Water Rights

Trusts & Estates
Estate Planning
Fiduciary Obligations and Estate and Trust Litigation
Guardianships, Conservatorships and Disability Planning
Probate, Estate and Trust Administration
Bar Admission
All state and federal courts in Colorado, Montana, North Dakota, Utah, and Wyoming.
Education
2011 – J.D. with Honors, University of Wyoming, College of Law
2011 – M.A., Environmental and Natural Resources, University of Wyoming Haub School
2008 – B.A., Magna Cum Laude, University of Wyoming College of Arts & Sciences
Prior Experience (Employment)
2011-2014 – Associate Attorney, Throne Law Office, P.C.
Honors & Awards
U.W. College of Arts & Sciences Top 20 Outstanding Graduate Award (2008)
Rocky Mountain Mineral Law Foundation Scholar (2010-2011)
Wyoming Law Review Comment Editor (2010-2011)
Phi Beta Kappa, Phi Kappa Phi
Community Involvement
Fourth Judicial District Bar Commissioner (2014-2017)
Mineral Law Section of the Wyoming State Bar (Chair 2014-2015)
Young Lawyers Section of the Wyoming State Bar (President-Elect 2011-2012, President 2013-2014)
Sheridan County Bar Association (President, 2013)
Laramie Kempo Karate Club Volunteer Instructor (2009-2011)
U.W. Alternative Spring Break Trip Leader (2009-2010) Orphanage Outreach / Outreach 360 Volunteer (2009)
Professional Affiliations
American Bar Association
American Bar Foundation Fellows
Colorado Bar Association
State Bar of North Dakota
State Bar of Montana
Utah State Bar
Wyoming State Bar
– Fourth Judicial District Bar Commissioner (2014–2017)
– Young Lawyers Section (2011–2012 President-Elect; 2013–2014 President)
– Energy & Natural Resources Section (2014–2016 Chair)
Sheridan County Bar Association (2013 President)
Rocky Mountain Mineral Law Foundation
American Association of Professional Landmen
Wyoming Association of Professional Landmen
– Board of Directors, Executive Committee (2015–2017)
Wyoming Water Association
Presentations & Publications
"Land Descriptions and the Public Land Survey System," Nuts and Bolts of Mineral Title Examination, Paper 1 (Rocky Mt. Min. L. Fdn. 2015).
"Landmen and the Unauthorized Practice of Law in Wyoming," Landman Magazine (A.A.P.L. July/August 2014).
Case Note, ENERGY LAW—Finding the Appropriate Authority for Federal Coal Mine Methane Leasing; Vessels Coal Gas, Inc., 175 I.B.L.A. 8 (2008), 10 Wyo. L. Rev. 515 (2010).
Reported Decisions / Cases
Windsor Energy Group, L.L.C. v. Noble Energy, Inc., 2014 WY 96, 330 P.3d 285 (Wyo. 2014).
Century Surety Co. v. Jim Hipner, LLC, 2016 WY 81, 377 P.3d 784 (Wyo. 2016).