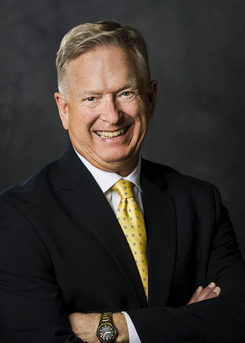 Brian R. Bjella
Office:
Bozeman
Representative Matters
Represented clients in permitting numerous projects or contested cases before the North Dakota Public Service for pipelines - coal mines - electric transmission lines and wind farms.
Preparation of complex title opinions - including multi-well acquisition projects.
Brian R. Bjella is Senior Counsel in the firm's Bozeman Energy, Environment & Natural Resources Department. He joined the firm in 2009 after practicing with Fleck, Mather & Strutz, Ltd., in Bismarck, North Dakota since 1980. His primary areas of practice are natural resources, public utilities and government relations law.
A significant portion of Brian's practice involves representing energy clients in permitting facilities before the North Dakota Public Service Commission. He has extensive experience in preparation of mineral title opinions. Brian has litigated contract and property law issues before state and federal courts. He also has represented clients in lobbying activities before the North Dakota legislature.
Brian is a board member and treasurer of the Lignite Energy Council, a coal industry trade association. He has been very active in the Rocky Mountain Mineral Law Foundation, serving on the Special Institutes Committee and as chair of the Long Range Planning Committee, several program committees and presenting papers at annual or special institutes. He has been appointed a trustee of the Foundation on two occasions, and twice been elected to serve on the board of directors.
Practice Areas
Mergers & Acquisitions
Renewable Energy
Permitting and Environmental
Associated Transmission Lines
Title and Real Estate Related Matters

Mining – Hard Rock, Coal and Other Minerals
Pipelines, Transmission Lines and Other Linear Facilities
Industrial Facilities

Oil and Gas
Indian Law
Lobbying, Regulatory and Administrative Affairs
Mergers and Acquisitions
Environmental
Title Examination

Lobbying
Regulatory and Administrative Affairs

Land and Mineral Acquisition
Litigation and Administrative Proceedings
Mine Development and Operation
Title Review and Curative

Access, Title and Property Disputes
Development, Zoning and Land Use
Bar Admission
North Dakota, 1979
Montana, 1997
Minnesota, 2000
Education
1979 – J.D., University of North Dakota
1975 – B.A., Cum Laude, University of North Dakota
Prior Experience (Employment)
Prior to joining the firm, Brian served as an Assistant Attorney General representing the North Dakota Department of Trust Lands.
Honors & Awards
Best Lawyers in America for Mining Law and Natural Resources Law (2007-present)
Best Lawyers' 2013 Natural Resources Law "Lawyer of the Year" in Bismarck
Great Plains Super Lawyers – Energy & Natural Resources (2011-2018)
Community Involvement
Brian is committed to civic involvement. He has served or is serving on the following charitable boards: the Child's Hope Learning Center, a preschool for special needs children; United Way, having served as campaign chair in 1997, Board President in 1999 and on the board of trustees; President of the Tom and Frances Leach Foundation, a private foundation granting funds for charitable purposes; the Board of Trustees of the YMCA; and Board of Directors of Luther Seminary. Brian has also been active in the Chamber of Commerce, serving as the government relations committee chair for the 1997 legislative session, and currently on the major employers committee.
Professional Affiliations
North Dakota State Bar Association
State Bar of Montana
State Bar Association of Minnesota
American Bar Association
Rocky Mountain Mineral Law Foundation
American Association of Professional Landmen
Presentations & Publications
"Removing the Operator Under the Joint Operating Agreement," (1999)
"Management of Water and Water Quality in Coal Mining: A Legal Perspective" (2002)
"Are Landmen Practicing Law? The Legal & Ethical Issues," (2003)
"Advanced Mineral Conveyancing and Title Issues," (2007)
Co-authored "Common Issues in Preparation of a Title Opinion," (2012)
Co-authored "Riparian Rights – Ownership of Minerals Under Rivers and Lakes" (2014)
Reported Decisions / Cases
Hild v. Johnson, 723 N.W.2d 389 (ND 2006); Duncan Energy Co. v. Three Affiliated Tribes, 27 F.3d 1294 (8th Cir. 1994); Coteau Properties Co. v. Oster, 606 N.W.2d 876 (ND 2000); Burk v. Nance Petroleum. Corp., 10 F.3d 539 (8th Cir. 1993); Dakota Resource Council v. N.D. Public Service Commission, 815 N.W.2d 286 (ND 2012); McLain v. Meier, 637 F.2d 1159 (8th Cir. 1980).