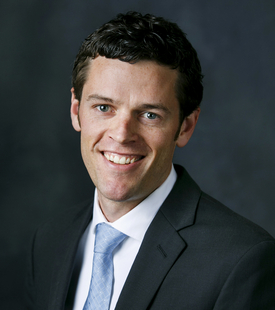 Dave Whisenand
Office:
Bozeman
Representative Matters
Part of a trial team that successfully defended a health system in a complex commercial case involving alleged underpayment of commissions.
Obtained dismissal of a third-party contribution and indemnification claim against a health system arising out of contracted mental health services in a wrongful death case.
Dave's practice focuses on representing medical providers, facilities, and health systems in litigated matters. He has defended dozens of health care providers, hospitals, clinics, and skilled-nursing and long-term care facilities against allegations of negligence and medical malpractice. He also frequently represents and advises physicians, physician assistants, nurse practitioners, nurses, mental health counselors, and other professionals in licensing matters.
Dave has also handled complex commercial litigation, defended health care entities against allegations of negligent disclosure of patient health information and HIPAA violations, and advised workers' compensation insurers on the management and resolution of claims. In addition to his litigation practice, Dave advises health care providers, facilities, and insurers on settlement, third-party lienholder compliance, Medicare and Medicaid, Board of Medicine, quality assurance, peer review, and National Practitioner Data Bank issues.
Dave has extensive experience appearing before the Montana Medical Legal Panel and in State and Federal District Courts throughout Montana. Dave practiced in the firm's Billings office for three and a half years before moving to the Bozeman office in June, 2016. He continues to handle cases in Billings and throughout Montana, North Dakota, and Wyoming.
Dave grew up in the Twin Cities before attending the University of Montana. He received his B.A. in 2008 and his J.D. in May, 2012. Before attending law school, Dave worked two summers in Glacier National Park and one winter at Whitefish Mountain Resort. While in law school, he was an editor of the Public Land & Resources Law Review, president of the Environmental Law Group, and obtained a certificate in Natural Resources Conflict Resolution. Dave interned with Crowley Fleck the summer of 2011.
In his free time, Dave enjoys spending time with his wife Katie, chasing his four-year old son Arthur and two-year old son Benjamin around, and trail-running, skiing, hiking, golfing, and rafting.
Practice Areas
Healthcare
Electronic Information, Technology, and Security [HIPAA]
Healthcare Litigation
Medical Staff, Credentialing, Peer Review, and Physician Matters

Labor & Employment
Workers Compensation

Tort Litigation
Medical Malpractice Defense
Negligence
Personal Injury
Product Liability Defense
Products Liability
Professional negligence, including medical malpractice
Unfair Trade Practices Act
Bar Admission
Montana, 2012
U.S. District Court of Montana, 2012
North Dakota, 2013
Wyoming, 2014
Education
2012 – J.D. with Certificate in Natural Resources Conflict Resolution, University of Montana School of Law
2008 – B.A. with Honors in Environmental Studies, University of Montana
Professional Affiliations
State Bar of Montana
American Bar Association – Young Lawyers Division District Representative 2014-2016
North Dakota State Bar Association
Wyoming State Bar Association
Defense Research Institute – Medical Liability and Health Law Committee Young Lawyer Liaison
Montana Defense Trial Lawyers Association