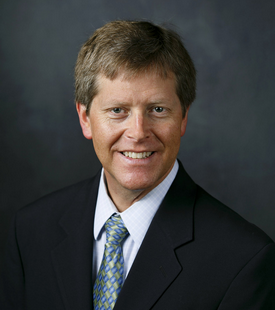 David M. Wagner
Office:
Bozeman
David Wagner is a Partner in the firm's Bozeman office. David's practice is focused primarily on civil litigation and trial work with a concentration on representing both plaintiffs and defendants in complex commercial, business, real estate, and banking cases. He has been lead trial counsel on a number of commercial and banking cases tried in Montana.
David graduated with honors from the University of Montana School of Law in 1995. He worked in the firm's Billings, Montana office from 1995-2001. At that time, he concentrated his practice on medical malpractice defense. In 2001, David joined the firm's Bozeman, Montana office. Since moving to Bozeman, he has represented banks, businesses, and individuals in civil litigation involving real estate/real estate development, easements, contracts, lien and mortgage foreclosures, and corporate/shareholder disputes. He successfully has tried a number of these disputes in Montana courts.
Practice Areas
Banking and Finance
Banking Law, Compliance, and Internal Operations and Processes

Business Organizations
Litigation

Creditors' Rights & Bankruptcy
Real Property Foreclosures & Landlord-Tenant Disputes

Real Estate
Access, Title and Property Disputes
Condominium and Homeowners' Associations
Bar Admission
Montana, 1995
U.S. District Court, District of Montana, 1996
U.S. Court of Appeals, Ninth Circuit, 2001
Education
1995 – J.D. with honors, University of Montana
1989 – B.S., Colorado College
Prior Experience (Employment)
1995-Present, Crowley Fleck PLLP
2010-2012, Chairperson of Litigation Department, Crowley Fleck PLLP
2014-Present, Co-Chairperson of Commercial Litigation Practice Group
1989-1992, Colorado Rocky Mountain School, High School Teacher
Honors & Awards
Best Lawyers in America for Commercial Litigation and Litigation – Real Estate (2013-present)
Best Lawyers in America – 2016 Lawyer of the Year – Real Estate
Best Lawyers In America – 2017 Lawyer of the Year – Real Estate and Commercial Litigation
Best Lawyers in America – 2023 Lawyer of the Year – Bet-the-Company Litigation
Mountain States Super Lawyers (2014-Present)
AV Preeminent Rating by Martindale-Hubbell
Order of Barristers Award
Edward A. Cremer, III Environmental Law Award
Member, Montana Law Review
Member, National Moot Court Team
Clyde Augustus Duniway Award for Outstanding Student Achievement (Colorado College)
Community Involvement
Big Brothers Big Sisters Board of Directors, Yellowstone County, Montana
Gallatin County Bar Treasurer, Gallatin County, Montana
Professional Affiliations
American Bar Association
State Bar of Montana
Gallatin County, Montana Bar Association
Defense Research Institute (DRI)
Montana Trial Lawyers Association
Reported Decisions / Cases
Representative Trial Experience:
• Rosa Construction, Inc. v. Capstone Builders, Inc. et al. v. Sterling Savings Bank, Montana Eighteenth Judicial District Court (2013): Five day jury trial resulting in the permanent discharge of Capstone's improper construction lien against Rosa's real property, affirming the priority of Sterling Savings Bank's mortgage on Rosa's real property, and awarding $1,425,000 in compensatory damages against Capstone for recording an improper lien on Rosa's real property and interfering with the Bank's mortgage interest.
• Delaney & Company v. City of Bozeman, Montana Eighteenth Judicial District Court (2008): $3,000,000 jury verdict against the City of Bozeman for claims of constructive fraud, negligent misrepresentation, and tortious interference. The verdict was affirmed on appeal.
• Boyne USA, Inc. v. Spanish Peaks Development, LLC & Lone Mountain Holdings, LLC, Montana Fifth Judicial District Court (2010): $600,000 jury verdict and additional award of punitive damages for breach of contract, deceit, abuse of process and other claims. The verdict was affirmed on appeal.
• American Bank v. Blue Sky Development, LLC et al., Montana Eighteenth Judicial District Court (2010): Five day trial to determine priority of mortgage approximating $10,000,000 over engineer's construction lien which exceeded $1,000,000.
• Stockman Bank of Montana v. Lien Corporation, Montana Eighteenth Judicial District Court (2009): Trial concerning access to Bank owned commercial property in Bozeman, Montana, and award of $42,000 to Bank for intentional interference with Bank's access rights.
Representative Appellate Experience:
Boyne USA, Inc. v. Spanish Peaks Development, LLC & Lone Mountain Holdings, LLC, 2013 MT 1, 368 Mont. 143, 292 P.3d 432; Yellowstone River, LLC v. Meriwether Land Fund I, LLC, 2011 MT 263, 362 Mont. 273, 264 P.3d 1065; Gaston Engineering & Surveying, P.C. v. Oakwood Properties, LLC, 2011 MT 44, 359 Mont. 341, 249 P.3d 75; Mosser v. Crowley Fleck PLLP, 2010 MT 165N, 357 Mont. 561, 242 P.3d 1285 (Table); Boyne USA, Inc. v. Lone Moose Meadows, LLC, 2010 MT 133, 356 Mont. 408, 235 P.3d 1269; Delaney & Company v. City of Bozeman, 2009 MT 441, 354 Mont. 181, 222 P.3d 618; State v. Allendale Mut. Ins. Co., 2007 MT 83, 337 Mont. 49, 154 P.3d 1233; Burleson v. Kinsey-Cartwright, 2000 MT 278, 302 Mont. 141, 13 P.3d 384; Kinsey-Cartwright v. Brower, 2000 MT 198, 300 Mont. 450, 5 P.3d 1026; Arcadia Financial, Ltd. v. Prestige Toyota, 1999 MT 273, 296 Mont. 494, 989 P.2d 831; Grenz v. Fire & Cas. of Connecticut, 278 Mont. 268, 924 P.2d 264 (1996); Montana Opticom, LLC v. Holsinger P.C. et al., 2016 MT 107N.