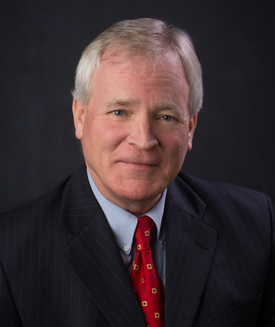 Gregory G. Schultz
Office:
Missoula
Representative Matters
Regular representation of individuals and entities asserting and defending against easement claims
Extensive work with members of the Montana survey industry in contested subdivision and boundary challenges
Pursuit of Montana Supreme Court appeal resulting in early recognition of easement by plat doctrine
Pursuit of Ninth Circuit appeal establishing relationship of Northern Pacific right of way abandonment and Rails to Trails scheme
Representation of title insurer in Montana Supreme Court appeal limiting insurer's access policy obligation
Defense of major lender against attorney's fee lien claim resulting in Montana Supreme Court opinion clarifying foreclosure of lien
Regular representation of lenders for title curative work in lien validity and priority disputes
Greg is Senior Counsel in the firm's Missoula office. He has practiced for 38 years and in Montana since 1995. Before joining Crowley, he administered his own practice for nearly 20 years. His practice concentration is real property, with particular expertise in land titles, real property secured lending, easements, title insurance, purchase and sale transactions, foreclosure, and survey matters. He is married, with two children.
Practice Areas
Financing, Loan Structuring, and Documentation

Business Organizations
Litigation

Construction Law
Construction Defects
Contract Drafting and Negotiation
Lien and Bond Claims
Mediation and Arbitration

Bankruptcy
Collections
Debt Restructuring and Workouts
Personal Property Foreclosures, Claim and Delivery, Replevin, and Injunctive Remedies
Real Property Foreclosures & Landlord-Tenant Disputes

Oil and Gas
Litigation
Title Examination

Land and Mineral Acquisition
Title Review and Curative

Real Estate
Access, Title and Property Disputes
Commercial Real Estate Acquisition, Sales and Leasing
Condominium and Homeowners' Associations
Construction and Design
Development, Zoning and Land Use
Farm and Ranch Transactions
Real Estate Financing and Security Devices
Water Rights

Common law bad faith
Coverage decisions

Elder Law Planning
Estate Planning
Probate, Estate and Trust Administration
Bar Admission
1984, Arizona, U.S. District Court, District of Arizona and U. S. Court of Appeals, Ninth Circuit
1993, Kansas, U.S. District Court, District of Kansas, Missouri, U.S. District Court, Western District of Missouri, U.S. Court of Appeals, Eighth and Tenth Circuits
1995, Montana and U.S. District Court, District of Montana
Education
Yale University (B. A. summa cum laude, 1980)
Northwestern University (J.D. 1984)
Prior Experience (Employment)
Brown & Bain, P.A. (Phoenix, Arizona, 1984-1988)
Gaston & Snow (Phoenix, Arizona, 1988-1992)
Turner & Boisseau, Chtd. (Overland Park, Kansas, 1992-1995)
Knight & Masar, PLLP (Missoula, Montana, 1995-1999)
Law Offices of Gregory Schultz, P.C. (Missoula, Montana, 1999-2017)
Honors & Awards
Yale University: summa cum laude
National Honor Society
Community Involvement
Member, Missoula City Zoning Board of Adjustment (2005-2015)
Professional Affiliations
Member and Instructor: Montana Land Title Association
Instructor: Montana Association of Registered Land Surveyors, American Society of Farm Managers and Rural Appraisers (Montana Chapter)
Presentations & Publications
Editor, Developments in Montana Title Law (2000-2017); Contributor, Treasure State Surveyor and Title Insurance Law Newsletter by Woodridge Legal, now ALTA
Reported Decisions / Cases
Towsley v. Stanzak, et al., 2022 MT 217
Thomas Mann Post 81 v. Knudsen Family Limited Partnership, 2022 MT 150 Green, et al., v. Chicago Title Insurance Co., 2021 WL 4476446 (D. Mont. 2021)
Nelson v. Davis, et al., 2018 MT 113
James v. Chicago Title Insurance Company, 2014 MT 325
Our Lady of the Rockies v. Peterson, 2008 MT 110
Avista Corporation v. Sanders County, 485 F.Supp.2d 1176 (D. Mont. 2007), aff'd, 549 F.3d 1239 (9th Cir. 2008)
St. Peter & Warren v. Purdom and Norwest Bank, 2006 MT 172
Zapel v. Parker d/b/a Georgetown Lake Estates, 2004 MT 123
Kohler v. Croonenberghs, 2003 MT 260
Urquhart and Talia v. Teller, 238 Mont. 497 (1998)
Amerimont v. Gannett, 278 Mont. 314 (1996)
Koch v. Shell Oil, 52 F.3d 878 (10th Cir., 1995)
Mahler v. Keenan Real Estate, 255 Kan. 593 (1994)
Decker v. Avis Rent-A-Car, 20 Kan. App. 2d 43 (1994)