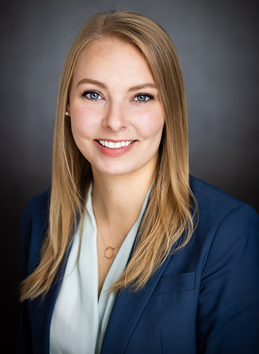 Jen M. Pavlikowski
Office:
Cheyenne
Jen Pavlikowski is an Associate in the firm's Cheyenne, WY office. She practices with the Commercial Transactions and Tax, Trusts, and Estates practice groups.
Jen is originally from southern Arizona and moved to Flagstaff for college in 2011. Jen graduated cum laude from Northern Arizona University with a bachelor's degree in business administration. Following graduation, she moved to the greater Denver area where she spent a few years as a claims adjuster then paralegal.
Jen attended the University of Wyoming College of Law where she graduated with honors. As a student, Jen enjoyed her time helping others as a Legal Research and Writing Teaching Assistant and as Vice Justice of Phi Alpha Delta Law Fraternity.
Jen loves spending time with her two dogs and is getting married later this year.
Education
2023 – J.D., University of Wyoming, College of Law
2014 – B.S., Northern Arizona University, Business Administration: Marketing
Prior Experience (Employment)
2022 – United States Bankruptcy Court for the District of Wyoming (Extern)
2021 – Wyoming Attorney General's Office, Tort Litigation Division (Intern)
2021-2022 – Albany County Attorney's Office (Intern)
Community Involvement
Wyoming Girl's State 2022