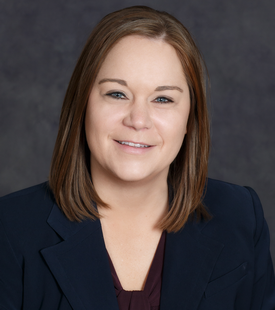 Lisa M. Six
Office:
Williston
Lisa M. Six is a Partner in the firm's Williston office. She interned in the firm's Williston office for two summers during law school before joining as an associate attorney in the fall of 2012. Lisa is originally from Sidney, Montana, so Lisa returned to the Bakken region to be closer to her family and has made this area her home.
Lisa's practice focuses on litigation. She has experience in both state court and federal court working on a variety of litigation matters, including breach of contract actions, breach of trust actions, breach of warranty claims, collections, contested guardianship and probate proceedings, creditors' rights (executions, garnishments, and sheriff's sales), defense of personal injury and wrongful death, involuntary dissolutions, landlord-tenant disputes, lien foreclosures (construction liens, mobile home liens, oil and gas well liens, and repairman's liens), mediations, partitions, quiet title actions, real property disputes, replevins, and tort litigation. Lisa also has experience in appellate practice before both the North Dakota Supreme Court and the Montana State Supreme Court.
Lisa graduated summa cum laude from the University of North Dakota in December of 2008 with a Bachelors of Science in Criminal Justice Studies. She interned for the U.S. Senate in Washington, DC before attending law school. Lisa received her Juris Doctorate with highest honors from Drake University Law School in May of 2012, where she was a member of the Order of the Coif. While in law school, Lisa was a Research Editor of the Drake Law Review and a student co-author of the Criminal Law Newsletter, an annual publication of the Drake Legal Clinic Criminal Defense Program. During law school, she was a student extern to the Honorable Edward M. Mansfield, Justice of the Iowa Supreme Court, as well as a student intern with Joe Bolkcom, Senator of the Iowa State Senate.
In her free time, Lisa enjoys playing piano and spending time with her family.
Practice Areas
Business Organizations
Litigation

Construction Defects
Lien and Bond Claims

Collections
Personal Property Foreclosures, Claim and Delivery, Replevin, and Injunctive Remedies
Real Property Foreclosures & Landlord-Tenant Disputes

Real Estate
Access, Title and Property Disputes

Negligence
Personal Injury
Product Liability Defense

Trusts & Estates
Fiduciary Obligations and Estate and Trust Litigation
Bar Admission
2014 – Iowa (inactive)
2013 – Montana
2012 – U.S. District Court District of North Dakota
2012 – North Dakota
Education
2016 – Certificate of Completion – Building Trial Skills, National Institute for Trial Advocacy Training (6 day in-person program)
2015 – Certificate of Completion – Deposition Skills, National Institute for Trial Advocacy Training (3 day in-person program)
2012 – J.D. with Highest Honors, Drake University Law School
2008 – B.S.C.J.S., University of North Dakota, summa cum laude
Honors & Awards
Great Plains Super Lawyers – Rising Star (2018)
Order of the Coif
Drake Law Review – Research Editor
Community Involvement
Williston Area Chamber of Commerce – Graduate of "Leadership Williston" Program
Williston Area Chamber of Commerce – Member of Leadership & Education Committee
Williston Area Chamber of Commerce – Member of "Lemonade Day Williston" Subcommittee
Professional Affiliations
American Bar Association
Defense Research Institute
North Dakota Defense Lawyers Association
North Dakota Supreme Court Joint Procedure Committee
State Bar Association of North Dakota
State Bar of Montana
Upper Missouri Bar Association
Presentations & Publications
Student Contributor, Criminal Law Newsletter, Drake Legal Clinic Criminal Defense Program (2011-2012)
Student Editor, Criminal Law Newsletter, Drake Legal Clinic Criminal Defense Program (2010-2011)
Reported Decisions / Cases
Matter of Estate of Nohle, 2017 ND 100, 893 N.W.2d 755 – on brief and argued – estate distribution
Matter of Estate of M.D., 2017 MT 22, 388 P.3d 954 – on brief – guardian
In re Guardianship of R.G., 2016 ND 96, 879 N.W.2d 416 – on brief and argued – guardian/conservator
Cheetah Properties 1, LLC v. Panther Pressure Testers, Inc., 2016 ND 102, 879 N.W.2d 423 – on brief and argued – damages and attorneys' fees in eviction actions
Moodys v. Sundley, 2015 ND 204, 868 N.W.2d 491 – on brief and argued – adverse possession
In re Estate of Cashmore, 2013 ND 150, 836 N.W.2d 427 – on brief – estate litigation