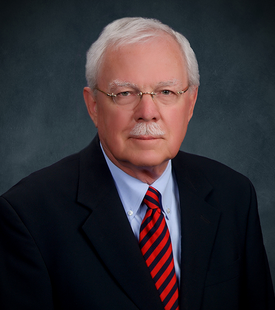 Malcolm H. Brown
Office:
Bismarck
Malcolm H. Brown joined the firm's Bismarck office in July 2013 as an Of Counsel Attorney. He was born in Duluth, Minnesota, and raised in Jamestown, North Dakota. He received his undergraduate degree in 1964 and his law degree in 1967 from the University of North Dakota. Malcolm maintained a private practice in Mandan, North Dakota, from 1967 to 1994. He then moved his practice to Bismarck, North Dakota, in 1994 until joining Crowley Fleck. Malcolm has received an "A" rating by Martindale-Hubbell for the last 25 years. He has also been listed as a "Super Lawyer" of the upper midwest and listed in the Best Lawyers in America. His practice areas are commercial law, real estate, eminent domain, estate planning, and probate.
Practice Areas
Business Organizations
Litigation

Litigation and Administrative Proceedings

Real Estate
Access, Title and Property Disputes
Commercial Real Estate Acquisition, Sales and Leasing
Condominium and Homeowners' Associations
Farm and Ranch Transactions

Trusts & Estates
Estate Planning
Probate, Estate and Trust Administration
Bar Admission
North Dakota Supreme Court, 1967
North Dakota Federal District Court, 1967
US Supreme Court, 1973
Education
1967 – J.D., University of North Dakota
1964 – Ph.B, University of North Dakota
Prior Experience (Employment)
1967-1994; Private practice, Vogel, Bair and Brown, and successors, Mandan, ND,
1994-2013; Malcolm H. Brown, PC, Bismarck, ND
Honors & Awards
AV Preeminent Rating by Martindale-Hubbell for the last 25 years
Great Plains Super Lawyers – Business Litigation, Real Estate, Estate Planning & Probate (2007-2018)
Best Lawyers in America for Commercial Litigation and Corporate Law (1989-present)
Best Lawyers' 2013 Corporate Law "Lawyer of the Year" in Bismarck
North Dakota Golf Hall of Fame, 2004
Community Involvement
Mayor of Mandan, North Dakota, 1976-1980
Bismarck-Mandan Chamber of Commerce, Board of Directors, 2000-2003
Professional Affiliations
North Dakota State Bar Association
North Dakota Board of Law Examiners, 1981-1993
United States Golf Association, Green Section Committee, 1992-2011
Reported Decisions / Cases
Over 40 North Dakota Supreme Court decisions and over 10 8th Circuit Court of Appeals decisions.