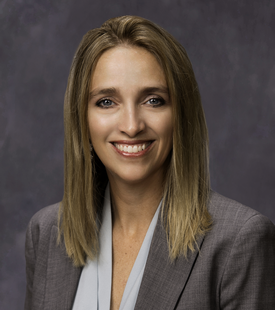 Aimee M. Grmoljez
Office:
Helena
Representative Matters
Lobbying for telecommunications on tax and regulatory issues
Lobbying for healthcare clients on regulation - torts - insurance and general matters
Representation of banking on governmental affairs state issues
Lobbying for natural resources developers in coal - oil and wind
Representation of captive insurance association in Montana
Lobbying for pro-tourism issues at the Montana Legislature
Lobbying for Montana nonprofit interests
Working on procurement issues within the State of Montana government contracts
Grassroots advising client on state and federal issue advocacy
Advises clients on matter in front of the Public Service Commission
Representation of retail interest across Montana
Regulatory and Administrative Affairs
Aimee is a Partner and chairs the firm's Government Affairs Department. Since 2001, she has advocated for clients in matters of governmental affairs and litigation. Aimee joined the Crowley Fleck law firm in 2009 and as a partner specializes in lobbying, procurement and grassroots lobbying. She is a member of the State Bars of Montana and Colorado and is currently the Past Chair of the Montana Chamber of Commerce Board and has been on the board since 2010. Aimee has served as Trustee for the Healthcare Section of the Montana State Bar. She is an appointed member of the Supreme Court's Access to Justice Commission and the Governor's Equal Pay Task Force. Aimee is currently on the board of the Montana Women's Foundation. She was also named a Rising Star in the Mountain States edition of Super Lawyers in 2012 and she won the Salute to Women Award in 2016. Aimee was on the board of State Law Resources an international network of independent law firms that help businesses and public policy trade associations mange both legal and state government relations. Aimee was raised in Billings, Montana and graduated from Boston College in 1994 with a B.S. in English and the University of Montana School of Law in 1998. She clerked for U.S. District Judge Don Molloy in 1999 and served as the Chief Legal Counsel for Governor Marc Racicot from 1999-2001.
Practice Areas
Lobbying
Regulatory and Administrative Affairs

Lobbying, Regulatory and Administrative Affairs
Bar Admission
Montana, 1998
U.S. District Court, District of Montana, 1998
Colorado, 1998
Education
1998 – J.D., University of Montana School of Law
1994 – B.S. in English, Boston College
Prior Experience (Employment)
Aimee has experience as a trial attorney and director of government affairs for clients in areas of taxation, insurance, natural resources, healthcare, banking, tourism and non-profit.
Honors & Awards
Salute to Women Achievement Award (2016)
Mountain States Super Lawyers Rising Star (2012)
Member of the Inaugural 20 Under 40 selected by the Independent Record (2004)
Outstanding Board Member Award from Big Brothers and Big Sisters of Helena (2001-2007)
Community Involvement
Aimee is active coaching and managing her daughters' soccer teams, teaching at her church, attending book club and traveling with her family throughout the U.S. and abroad. She is Past Co-President of the Kessler School Parent Partnership.
Professional Affiliations
Chair of the Montana Chamber of Commerce Board (2015-2016) and board member since 2010
Board Member of the Helena Area Community Foundation (former President) (2006-2012)
Trustee for the Healthcare Section of the Montana State Bar (2014 – 2016)
Member of the Supreme Court's Access to Justice Task Force (2012 – present)
Member of the Governor's Women's Equal Pay Task Force (2013 – present)
Member of the Montana Chamber Foundation Board (2015 – present)
State Bar of Montana
Colorado State Bar Association
Member of the First Judicial District Bar
Member of the Board of State Law Resources Group
Member of the board of the Montana Women's Foundation (2016 – present)
Presentations & Publications
Montana Lawyer, July 2017 – Healthcare Legislation Update from the 2017 Session
Montana Lawyer, October 2015 – Healthcare Legislative Update from the 2015 Session
Montana Lawyer, August 2015 – ABLE Act Passage in Montana
Speaking Engagements:
Presenter at the Athena Conference, 2016 & 2017 – Bozeman, MT
Lobbying 101 class to University of Montana Law School students once per semester – 2015 & 2016
August 2015 – Energy Law Seminar, Crowley Fleck and State Bar of Montana CLE
July 2015 – Legislative Update 2015, Montana Captive Insurance Association Annual Meeting, Whitefish, MT
June 2015 – Advocacy and Lobbying 101, Montana Girls State, Helena, MT
July 2014 – Legislative Update 2014, Montana Captive Insurance Association Annual Meeting, Whitefish, MT
June 2014 – Montana Banking at the 2015 Legislative Session, Montana Bankers Association Annual Board Meeting, Sun Valley, ID
June 2014 – Advocacy and Lobbying 101, Montana Girls State, Helena, MT
July 2013 – Legislative Update 2013, Montana Captive Insurance Association Annual Meeting, Whitefish, MT
June 2013 – Advocacy and Lobbying 101, Montana Girls State, Helena, MT
November 2012 – Montana Laws on Marijuana and Banking, American Banking Association Counsels Meeting