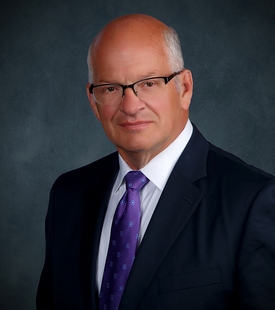 John W. Morrison
Office:
Bismarck
John W. Morrison, Jr., is Senior Counsel in our Bismarck office. He has been a shareholder in the Bismarck firm of Fleck, Mather & Strutz, Ltd. since 1986. He practices in the area of natural resources, public utilities and commercial law, and regularly represents clients in both litigation matters in state and federal courts and before state and federal administrative agencies, including the North Dakota Industrial Commission, the North Dakota Public Service Commission, the North Dakota Tax Department and the Bureau of Land Management.
Mr. Morrison received his Bachelor of Arts from Mary College and his Juris Doctorate from the University of North Dakota School of Law. Before entering private practice in 1981, he worked for the North Dakota Legislative Council, the North Dakota State Land Department, and the North Dakota Attorney General's Office.
He is a co-author of "Lobbying, PACs and Campaign Finance" (West 1996-2008), and has authored "Regulation of Gas Gathering Systems," 39 Rocky Mtn. Min. L. Inst. 18-1 (1993); "Doing the Lateral Lambada: Negotiating the Technical and Legal Challenges of Horizontal Drilling" 43 Rocky Mtn. Min. L. Inst. 601 (1997).
Practice Areas
Business Organizations
Litigation

Construction Law
Mediation and Arbitration

Energy & Minerals Projects & Transactions

Oil and Gas
Indian Law
Lobbying, Regulatory and Administrative Affairs

Lobbying
Regulatory and Administrative Affairs
Bar Admission
North Dakota, 1978
U.S. District Court of North Dakota, 1980
8th Circuit Court of Appeals
U.S. Supreme Court, 1992
Education
1978 – J.D., University of North Dakota School of Law
1975 – B.A., Mary College
Honors & Awards
Best Lawyers' 2015 Energy Law and Oil and Gas Law "Lawyer of the Year" in Bismarck
Best Lawyers' 2014 Natural Resources Law "Lawyer of the Year" in Bismarck
Best Lawyers in America for Energy Law, Natural Resources Law, and Oil and Gas Law (1995-Present)
Best Lawyers' 2013 Energy Law "Lawyer of the Year" in Bismarck
Great Plains Super Lawyers – Energy & Resources, Administrative Law, Business/Corporate (2011-2021)
Chambers USA – Leading Lawyers in Litigation: Energy & Natural Resources (2004-Present)
North Dakota Petroleum Council Hall of Fame (2006)
AV Preeminent Rating by Martindale-Hubbell
Professional Affiliations
North Dakota State Bar Association
Landman's Association of North Dakota – Ethics Chairman
North Dakota Petroleum Council – Past Chairman of Executive Committee
Rocky Mountain Oil & Gas Association – Past President
American Petroleum Institute – Past Director
Rocky Mountain Mineral Law Institute – Past Trustee
Reported Decisions / Cases
Vogel v. Marathon Oil Corporation, 2016 ND 104, 879 N.W.2d 471
Hystad v, North Dakota Industrial Commission, 389 N.W.2d 590 (N.D.1986)
Hystad v. Mid-Con Exploration Co., 489 N.W.2d 571 (N.D.1992)
Bice v. Petro-Hunt, LLC, 2009 ND 124, 768 N.W.2d 496
Wenco v. EOG Resources and QEP Energy Company, 2012 ND 219, 822 N.W.2d 701
Amerada Hess Corp. v. State of North Dakota, 2005 ND 155, 704 N.W.2d 8