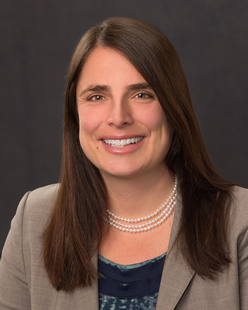 Lara D. Guercio
Office:
Bozeman
Lara Guercio is Senior Counsel in the firm's Bozeman office. She is a member of the firm's Environmental & Energy Practice Group, and her environmental practice includes environmental litigation, permitting and compliance work, as well as CERCLA/Superfund, natural resource damages, and Clean Water Act related issues. Lara has worked on renewable energy development matters, as well as public utility infrastructure upgrades and transmission line developments. She is also a member of the firm's Commercial Department. Her commercial transactions practice focuses on general commercial real estate matters, including acquisitions/dispositions, development, financing, land use and leasing.
Lara received her Master of Laws (LL.M.) in Environmental Law, summa cum laude, in 2010 from Vermont Law School. While at Vermont Law, she was a research fellow, published several law review articles and earned several academic excellence awards. Lara received her J.D., cum laude, in 2008 from the University of Michigan Law School. She holds an Environmental Studies degree from Middlebury College, and worked as an environmental scientist for several years before attending law school. Prior to joining Crowley Fleck, Lara was an associate in the Boston office of Goulston & Storrs.
Lara recently had a paper on the redevelopment of Superfund sites selected by the American Bar Association's Natural Resources & Environment Journal, which will be published in their Spring 2022 "Land" Issue.
Practice Areas
Energy & Minerals Projects & Transactions
Pipelines, Transmission Lines and Other Linear Facilities
Renewable Energy

Mining – Hard Rock, Coal and Industrial Minerals

Permitting and Environmental
Renewable Energy
Associated Transmission Lines
Title and Real Estate Related Matters

Natural Resources and Environmental Law

Real Estate
Access, Title and Property Disputes
Commercial Real Estate Acquisition, Sales and Leasing
Condominium and Homeowners' Associations
Development, Zoning and Land Use
Real Estate Financing and Security Devices
Water Rights
Bar Admission
Massachusetts, 2008 (Inactive)
Montana, 2016
Education
2010 – LL.M., Vermont Law School, summa cum laude
2008 – J.D., University of Michigan Law School, cum laude
2000 – B.A., Middlebury College, cum laude
Prior Experience (Employment)
2010-2015 – Real Estate Associate, Goulston & Storrs (Boston, MA)
Professional Affiliations
American Bar Association
State Bar of Montana
Presentations & Publications
Lara D. Guercio, Climate Change Adaptation and Coastal Property Rights: A Massachusetts Case Study, 40 B.C. ENVTL. AFF. L. REV. 349 (2013)
Run Your Meter Backwards: Net Metering and Other Opportunities, G&S Retail Law Advisor (2012)
Lara D. Guercio, Struggle Between Man & Nature – Agriculture, Nonpoint Source Pollution and Clean Water, 12 VT. J. ENVTL. L. 455 (2011)
Lara D. Guercio, Local and Watershed-Based Land Use Controls, PLANNING & ENVTL. L., Feb. 2010
Lara D. Guercio and Timothy P. Duane, Grizzly Bears, Gray Wolves and Federalism, Oh My! 24 J. ENVTL. L. & LITIG. 285 (2009)