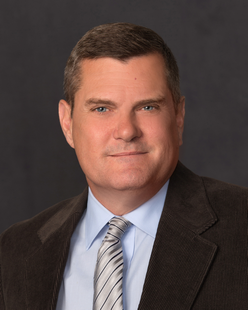 Steven W. Jennings
Office:
Billings
Steve Jennings is a Partner in the Billings Litigation Department. His primary practice areas are workers' compensation law and insurance defense with an emphasis on title insurance and real estate issues.
Mr. Jennings graduated from Ohio State University in 1986. Upon graduation Mr. Jennings was commissioned a 2nd Lieutenant in the United States Marine Corps. After active duty Mr. Jennings attended the University of Montana School of law where he graduated in 2003 with honors.
Mr. Jennings has successfully tried and argued several cases before Montana's federal and state courts as well as the Montana Supreme Court. Such cases included workers' compensation common fund/class action cases in which Mr. Jennings represented over 65 insurers. As a result of these cases Mr. Jennings' clients realized substantial savings.
Mr. Jennings continues to provide legal advice and trial representation to insurers and individual clients regarding workers' compensation and property title matters.
Practice Areas
Labor & Employment
Workers Compensation

Real Estate
Access, Title and Property Disputes

Title and Real Estate Related Matters

Tort Litigation
Class Action Defense
Coverage decisions
Negligence
Payment of insurance benefits
Bar Admission
Montana, 2003
United States Supreme Court, 2007
United States District Courts, District of Montana, 2003
Ninth Circuit Court of Appeals, 2005
Education
2003 – J.D. with Honors, University of Montana
1986 – B.S., Ohio State University
Prior Experience (Employment)
United States Marine Corps, 1986 – 1992 (Captain)
United States Marine Corps Reserve, 1992 – 1998 (Major)
Schneider National Carriers, 1992 – 1995 (Service Team Leader)
Texas Star Express 1995 – 1999 (Service Manager)
CrowleyFleck, PLLP, 2003 – 2009 (Associate Attorney)
CrowleyFleck, PLLP, 2009 – present (Partner)
Honors & Awards
Kelberg Scholarship, 2002 (Law School)
2003 – J.D. with Honors, University of Montana
Community Involvement
Assistant Little League Coach
Pro Bono Legal Representation
Professional Affiliations
State Bar of Montana
Reported Decisions / Cases
Amerimont, Inc. v. Fidelity National Title Ins. Co., 351 Mont. 292, 210 P.3d 691
Schmill v. Liberty NW Ins. Co., 354 Mont. 88, 223 P.3d 842
Satterlee v. Lumberman's Mutual Casualty Co., 340 Mont 176, 178 P.3d 689
Satterlee v. Lumberman's Mutual Casualty Co., 353 Mont. 265, 222 P.3d 566
Sampson v. National Farmers Union Property and Cas. Co., 333 Mont. 541, 144 P.3d 797
Montana Petroleum Tank Release Compensation Board v. Federated Service Ins. Co., 344 Mont. 45, 185 P.3d 998
Flynn v. Montana State Fund, 363 Mont. 55, 267 P.3d 23
Flynn v. Montana State Fund, 347 Mont. 146, 197 P.3d 1007
Montana Wildlife Federation v. Montana Board of Oil & Gas Conservation, 365 Mont. 232, 280 P.3d 877
Earl V. Pavex, 372 Mont. 476, 313 P.3d 154
Kruzich v. Old Republic Ins. Co., 344 Mont. 126, 188 P.3d 983
Sandru v. Rochdale Ins. Co., 2004 MTWCC 49, WCC No. 2003-0908
Keller v. Montana University System Self Funded Workers' Compensation Program, 2012 MTWCC 30, WCC No. 2012-2935
Schmill v. Liberty NW Ins. Co., 2008 MTWCC 38, WCC No. 2001-0300
Starkey v. Ace American Ins. Co., 2014 MTWCC 6, WCC No. 2013-3195
Haines v. Montana University System Self Funded Workers' Compensation Program, 2015 MTWCC 9, WCC No. 2014-3420
Amerimont, Inc. v. Fidelity National Title Ins. Co., Cause No. DV-05-530, Eighteenth Judicial District Court, Montana
Flagstone Development v. Joyner, Cause No. CV-08-100-BLG-RFC, United States District Court, District of Montana
Rockwell v. Timber Edge Products, Cause No. 608CV00013, United States District Court, District of Montana
Sherman Motor Inn, Inc. v. Garfield, Cause No. 4:06-cv-00102 1-1, United States District Court, District of Montana