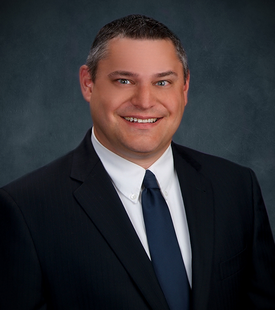 Blaine T. Johnson
Office:
Bismarck
Whether putting a deal together or picking up the pieces when one falls apart, Blaine diligently represents his clients in forming strategic and creative solutions to real estate and financing problems. Just as comfortable in the court room as in the board room, his experience and knowledge in both lending and real estate lends unique talent to those he represents.
For nearly two decades, Blaine has worked with both businesses and lenders in real estate acquisitions, due diligence, title examination, leasing, development and finance. He represents a number of financial institutions in complex work out situations, foreclosures, collection matters and defending lender liability claims.
In addition to his real estate and finance practice, Blaine handles a wide variety of business law matters including entity formation, corporate operations and governance, and other contract drafting, review and negotiation.
Practice Areas
Banking and Finance
Banking Law, Compliance, and Internal Operations and Processes
Financing, Loan Structuring, and Documentation

Creditors' Rights & Bankruptcy
Collections
Commercial Loan Transactions
Debt Restructuring and Workouts
Personal Property Foreclosures, Claim and Delivery, Replevin, and Injunctive Remedies
Real Property Foreclosures & Landlord-Tenant Disputes

Energy & Minerals Projects & Transactions

Oil and Gas
Title Examination

Real Estate
Access, Title and Property Disputes
Commercial Real Estate Acquisition, Sales and Leasing
Condominium and Homeowners' Associations
Development, Zoning and Land Use
Real Estate Financing and Security Devices

Trusts & Estates
Estate Planning
Probate, Estate and Trust Administration
Bar Admission
Minnesota, 2003
U.S. District Court of Minnesota, 2008
North Dakota, 2011
U.S. District Court of North Dakota, 2012
Education
2003 – J.D., University of Minnesota Law School
2000 – B.M.Ed., Summa Cum Laude, University of North Dakota
Honors & Awards
Great Plains Rising Stars – Energy & Resources (2014-2017, 2021)
Minnesota Super Lawyers Rising Star – Minnesota Law & Politics (2010)
Community Involvement
Rotary International District 5580 – Past District Governor
Bismarck Rotary Club (2011-present)
President, Board of Directors, Bismarck-Mandan Orchestral Association (2011-present)
Professional Affiliations
American Bar Association (Real Property, Probate and Trust Law Section)
Landman's Association of North Dakota
Minnesota State Bar Association
State Bar Association of North Dakota – Real Property, Probate & Trust Section Chair
North Dakota Mineral Title Standards Committee
State Bar Association of North Dakota – Legislative Committee
Presentations & Publications
 "Lease Maintenance & Other Title Issues Across the Shale Basins: The Bakken Formation," Development Issues in Major Shale Plays, Rocky Mt. Min. L. Fdn. (2014).
 A Compendium of Mineral Title Issues in North Dakota, 90 N.D. L. Rev 337, (2015).
 North Dakota Lien Law – Southwest Business & Construction Credit Conference – Phoenix AZ (2016).
 Real Property, Probate & Trust Section Seminar – Bankruptcy Basics (2016).
 Associated Impacts of a Recovering Oil Market – N.D.L.Rev. Energy Law Symposium (2017).
 Independent Community Bankers of North Dakota – Construction Lending Seminar (2018).
 Commercial Lending & Real Estate – SBAND Real Property Section Annual Meeting(2018)
 Legislative Update – State Bar Association of North Dakota (2019)