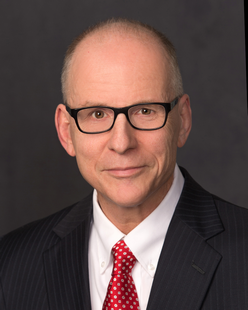 Bob Griffin
Office:
Billings
Languages Spoken
English
Spanish (speak, read, write)
Representative Matters
Obtaining a six-figure jury verdict in a copyright infringement case.
Obtaining preliminary injunctions in covenant-not-to-compete and trade secret cases.
Closing down an Internet phishing scam.
Prosecuting and defending trademark infringement and unfair competition claims.
Prosecuting Internet domain name disputes.
Obtaining federal and state trademark registrations.
Preparing Software as a Service and cloud-hosted services agreements.
Preparing libraries of form license agreements and addenda for software companies.
Preparing patent license agreements.
Preparing trademark and merchandise license agreements.
Preparing privacy statements and website terms and conditions.
Preparing nondisclosure agreements.
Preparing employment agreements and independent contractor agreements.
Advising potential franchisors and franchisees concerning franchise agreements.
Preparing international distributor agreements for software and other products.
Representing authors and publishers in contract negotiations and litigation.
Bob Griffin is a Partner in the Billings Litigation and Commercial Departments. Bob is a trial attorney with extensive experience in cases involving trade secrets, covenants not to compete, trademark infringement, software licenses, copyright infringement and patent infringement, as well as other commercial litigation matters. Bob also has extensive experience prosecuting trademark registration applications and preparing software licenses, noncompete/nonsolicitation agreements, and other agreements involving intellectual property and technology.
Practice Areas
Business Organizations
Litigation

Healthcare
Electronic Information, Technology, and Security [HIPAA]

Information Privacy and Cybersecurity

Intellectual Property & Technology
Intellectual Property & Technology – Commercial
Intellectual Property & Technology – Litigation
Licensing
Trademark & Copyright Registration

Labor & Employment
Employment contract review and drafting
Non-compete and non-disclosure agreements
Separation agreements
Bar Admission
Florida, 1993
Montana, 1995
U.S. District Court, District of Montana, 1995
U.S. Court of Appeals, Ninth Circuit, 1998
North Dakota, 2013
U.S. District Court, District of North Dakota, 2013
Education
1993 – J.D., University of Miami School of Law, Magna Cum Laude
1989 – D.M.A., University of Miami
1986 – M.A., University of Denver
1977 – B.F.A., Denison University
Prior Experience (Employment)
Holland & Knight, Miami, FL, 1993-1995
Honors & Awards
Member, University of Miami Law Review
Order of the Coif
Community Involvement
Billings Symphony Society, Board Member 1996-2005, 2016-21 (President 2002-2004, 2018-20)
Billings Public Library Foundation, Board Member, 2013-16 (President 2015-16)
Yellowstone Art Museum, Board Member 2006-2012
Billings Rotary Club 2003 – Present (Board Member 2009-2011)
Performances on classical guitar, theorbo, mandolin and banjo with the Billings Symphony, Rimrock Opera Company and Yellowstone Chamber Players
Professional Affiliations
Crowley Fleck Intellectual Property and Technology Practice Group, Chair
Model State Trademark Bill Subcommittee, International Trademark Association
State Bar of Montana (Council Member, Intellectual Property Section, 2016-21)
State Bar of North Dakota
Presentations & Publications
Intellectual Property: A Crash Course for Entrepreneurs, Billings, Montana, Jan. 16, 2020
Protecting Your Blind Side: Advanced Intellectual Property Topics for the General Practitioner, State Bar of Montana, Annual Meeting, Sept. 12, 2019
IP Day in Montana, University of Montana Blewett School of Law, April 11, 2019
Copyright for Trainers, Association of Trainers and Developers, November 30, 2018
Legal Fundamentals for Entrepreneurs, Bozeman, MT, April 5, 2018
Start Me Up! Don't Make Your Clients Cry: Intellectual Property Law and BETTR Law Sections Come to Your Emotional Rescue on Business Startups, State Bar of Montana, Annual Meeting, Sept. 22, 2017
Top Five Rockin' Copyright Cases, State Bar of Montana, Annual Meeting, Sept. 22, 2017
IP Day in Montana, University of Montana Blewett School of Law, March 16, 2017
How to Protect Your Intellectual Property: A Common Sense Approach, Innovate Montana Conference, Billings, MT, July 12, 2017
Cybersecurity & Liability, Montana Hospital Association Annual Conference, Billings, MT, Sept. 28, 2016
Business Torts: A Fifty-State Guide (Montana Chapter) (Wolters Kluwer 2013-2016)
Legal Topics to Have on Your Radar, Montana Brewers Association Annual Conference, Missoula, MT, Oct. 15, 2015
Montana Legislative Update, Billings, MT, Feb. 12, 2015
Trademarks, Branding & Other Intellectual Property Issues, Building Success Workshop, Billings, MT, Oct. 9, 2014
Intellectual Property Basics, Missoula, MT, Feb. 15, 2013
Intellectual Property Basics, Billings, MT, Feb. 13, 2013
Intellectual Property Basics, Casper, WY, Feb. 11, 2013
Intellectual Property & Intellectual Property Litigation, Billings, MT, July 24, 2007
The Law of the Internet: A Practical Overview, Billings, MT, Oct. 24, 2002
Covenants Not to Compete in Montana, Billings, MT, Aug. 22, 2002
Reported Decisions / Cases
Badger Daylighting Ltd. v. Badger Excavating, Inc., 2017 WL 2709723 (D. Mont. June 21, 2017)
GTAT Corporation v. Fero, 2017 WL 2303973 (D. Mont. May 25, 2017)
Montana Camo, Inc. v. Cabela's Inc., 2011 WL 744771 (D. Mont. Feb. 23, 2011)
Montana Camo, Inc. v. Cabela's Inc., 2011 WL 534006 (D. Mont. Feb. 15, 2011)
Montana Camo, Inc. v. Cabela's Inc., 2011 WL 91042 (D. Mont. Jan. 11, 2011)
Montana Camo, Inc. v. Cabela's Inc., 2010 WL 2399548 (D. Mont. June 11, 2010)
Wizard Publications, Inc. v. Kimberly-Clark Corp., 2008 WL 8763327 (D. Mont. Feb. 4, 2008)
Benson v. Diverse Computer Corporation, 89 P.3d 140 (Mont. 2004)