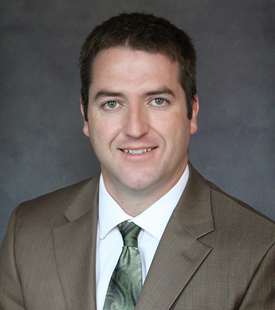 Charlie K. Smith
Office:
Butte
Representative Matters
Sedgwick
Travelers
The Hartford
Victory
along with other Work Comp insurers.
Charlie is originally from Anaconda, MT, and graduated from AHS in 1997. He married Rebecca Spear of Butte and they have three young kids.
After high school, Charlie attended Montana Tech in Butte and was awarded the Pegasus Gold Scholarship. In 2001, Charlie graduated from MT Tech with honors in Mining Engineering. He had engineering internships each summer and was a member of MT Tech's Environmental Design Team which won the national championship his senior year, beating Michigan State for first place. After graduation, Charlie passed the E.I.T. exam (engineering intern test) and accepted a temporary engineering position for the summer with a firm in Denver. Then, Charlie went straight to law school at the University of Montana and was one of the youngest in his class. He received the Poore Scholarship. Charlie had summer internships at law firms in Anaconda and Butte, and did part-time research projects for them during the school year. His clinical internship was with the Rocky Mountain Elk Foundation.
After graduating from law school in 2004, Charlie passed the bar exam and immediately started working as an associate attorney for the Butte firm Poore, Roth, and Robinson, P.C. He spent 12 years there and became a partner after 5.5 years. Charlie handled mostly medical malpractice, insurance defense, banking, property, and environmental cases.
Charlie was a lateral-transfer to Crowley Fleck in 2016 and now mostly handles Work Comp and employment matters.
Practice Areas
Intellectual Property & Technology
Intellectual Property & Technology – Commercial
Intellectual Property & Technology – Litigation
Licensing
Litigation
Trademark & Copyright Registration

Labor & Employment
Advice and representation in employment litigation, including wrongful discharge and discrimination matters
Employee discipline and termination advice
Independent contractor / employee classification
Non-compete and non-disclosure agreements
Workers Compensation
Workplace safety / OSHA

Tort Litigation
Medical Malpractice Defense
Negligence
Personal Injury
Professional negligence, including medical malpractice
Bar Admission
Montana State and Federal Courts
9th Circuit
Education
2004 – J.D., University of Montana School of Law
2001 – B.S. in Mining Engineering, Montana Tech
Prior Experience (Employment)
For approximately twelve years, Charlie previously worked for the Butte law firm Poore Roth and Robinson, P.C. Charlie became a partner in that firm in 2010.
Honors & Awards
With his engineering background, Charlie qualified for, and passed, the US Patent Bar. He is Crowley Fleck's only registered patent attorney, and one of about 20 in MT. Charlie has litigated several patent and trademark cases in Federal Court.
Community Involvement
Charlie coaches his kids' basketball and football teams in the Butte area, and volunteers on race day.
Professional Affiliations
Member of MT's Work Comp bar and annual participant at MT's Governor's Conference.
Presentations & Publications
Independent Contractor Liability at MT's Construction Expo.
Reported Decisions / Cases
Charlie's cited MT Supreme Court cases include: JAS, Inc. v. Eisele, 2016 MT 33; Durnam v. Bank of America, 2014 MT 32N; Pilgeram v. Greenpoint, 2013 MT 354; and, Beehler v. Eastern Radiological Associates, P.C., 2012 MT 260. Charlie has an extensive Work Comp practice and received favorable rulings from MT's Work Comp Court, such as: Heffernan v. Safety National Cas. Co., 2017 MTWCC 18.