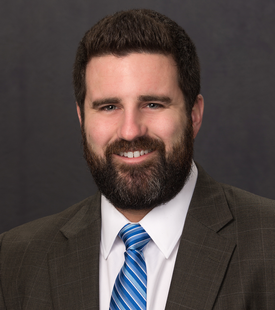 David F. Knobel
Office:
Billings
David F. Knobel is a Partner and litigator in Billings, Montana and maintains an active litigation practice in Kansas and Florida. David takes seriously his obligation to zealously advocate for clients, and clients notice. Clients love David because of his dedication, belief in clients' cases and defenses, and relentless and tireless work to solve problems in an efficient and economical manner. He has practiced law across the country, from Miami, Florida, to Wichita, Kansas, and now everywhere in Montana.
David has successfully handled pre-litigation negotiations, lawsuits, mediations, settlements, and appeals for plaintiffs and defendants in Montana, Kansas, and Florida in both state and federal trial courts and appellate courts. David practices in many areas of law, including but not limited to breach of contract cases, commercial litigation, real estate litigation and disputes, construction litigation, homeowners' association litigation, corporate governance lawsuits, shareholder disputes, prescriptive easement litigation, insurance litigation, banking and financial services litigation, farm and ranch litigation, water rights disputes, flooding cases, trespass and nuisance claims, products liability, negligence, wrongful death, various types of lease disputes, collection actions, bad faith litigation, quiet title lawsuits, fraud and intentional torts, deceit, negligent misrepresentation, oil and gas litigation, trust and estate litigation, equitable claims, conversion and civil theft, consumer claims, nonprofit organization litigation, and disputes with state and federal regulators and administrative agencies. In other words, if you have been sued or need to sue a person or entity, he can help. David's reputation for zealous advocacy and tireless work often helps clients resolve disputes before they reach the litigation stage.
Prior to joining the firm in 2017, David spent years practicing financial services litigation, representing individuals, businesses, banks, creditors, loan servicers, trustees, and government sponsored enterprises. At his previous firm, he represented one of the country's largest mortgage servicers and handled everything from contested foreclosures and local code violations to various insurance disputes, quiet title actions, nuisance claims, bankruptcy disputes, and direct actions against the company under various theories. He has defended innumerable lawsuits based upon the Fair Credit Reporting Act, the Fair Debt Collection Practices Act, the Truth in Lending Act, the Real Estate Settlement Procedures Act, and various state statutes and common law theories. David also handled formal responses to RESPA Qualified Written Requests, complaints to the Consumer Financial Protection Bureau, and complaints to state attorneys general. This broad litigation work in financial services set David up well to return home to Montana and develop a wide-ranging civil litigation practice at Crowley Fleck PLLP.
David grew up in Manhattan, Montana, and is a fifth-generation Montanan. His ancestors homesteaded the Sweet Grass Hills in the 1800s. He earned his Bachelor of Arts in political science with high honors from the University of Montana, where he participated in the Model United Nations in New York City, studied abroad twice, interned for a U.S. Senator, and was actively involved in multiple organizations.
After graduating from college, David spent a year gaining experience in the business world by working in the network operations center of a communications firm in Bozeman, Montana. This experience has proved invaluable because David learned things about the business world that helps him understand and advocate for business clients. Very few lawyers have the type of business experience, world travel (over 20 countries), academic background, and work ethic that David has.
David attended the University of Miami School of Law in Miami, Florida. David graduated magna cum laude from law school and earned a 4.0 GPA in his first year. He was staff editor on the University of Miami Inter-American Law Review, won numerous academic awards, and was selected to participate in the competitive Miami-Zurich Exchange Seminar because of his international experience and excellent grades. Also because of his grades, excellent writing skills, and academic awards, David served as a Writing Dean's Fellow his second and third year of law school, helping first year law students with legal writing.
David volunteers his time to do pro bono parenting plan mediations through Crowley Fleck PLLP's family law project. David has mediated many parenting plan disputes to successful resolution. He is open to mediating cases in other areas of law.
When not practicing law, David enjoys spending time in the outdoors and traveling internationally. David enjoys taking his wife and family on camping and backpacking trips in the Montana wilderness and national forest. David's love for international travel began at 19 when he spent a semester studying on the MV Explorer with Semester at Sea. Then at 21, David spent a semester in Cork, Ireland at University College Cork. There he spent his spring break traveling through Hungary, Romania, and Moldova. David backpacked through Costa Rica in college, and following law school has traveled to Peru to see Machu Picchu, to Thailand, Cambodia, and Laos to see Angkor Wat and Luang Prabang, and to Philippines to take an overland trip through the tribal regions of North Luzon. Most recently, David took his then-girlfriend and now-wife to Ecuador to see the Amazon jungle. They stayed at Mandari Panga deep in the Amazon jungle on the Tiputini River.
David Knobel is an occasional guest host on Montana's leading statewide talk radio program, Montana Talks.
Practice Areas
Business Organizations
Governance
Litigation
Non-Profit Entities

Construction Law
Construction Defects
Mediation and Arbitration
Professional Liability

Creditors' Rights & Bankruptcy
Bankruptcy
Collections
Personal Property Foreclosures, Claim and Delivery, Replevin, and Injunctive Remedies
Real Property Foreclosures & Landlord-Tenant Disputes

Healthcare
Healthcare Litigation

Intellectual Property & Technology
Intellectual Property & Technology – Litigation
Litigation

Labor & Employment
Advice and representation in employment litigation, including wrongful discharge and discrimination matters

Real Estate
Access, Title and Property Disputes
Condominium and Homeowners' Associations
Construction and Design
Water Rights

Tort Litigation
Class Action Defense
Class action litigation
Common law bad faith
Coverage decisions
Insurance compliance
Medical Malpractice Defense
Negligence
Payment of insurance benefits
Personal Injury
Product Liability Defense
Products Liability
Professional negligence, including medical malpractice
Unfair Trade Practices Act

Other Water-Related Matters
Bar Admission
Kansas Bar, 2014 (inactive)
Florida Bar, 2014
U.S. District Court, District of Kansas, 2014 (inactive)
U.S. District Court, Southern District of Florida, 2015
U.S. District Court, Middle District of Florida, 2015
Montana Bar, 2017
U.S. District Court, District of Montana, 2017
U.S. Court of Appeals for the Ninth Circuit, 2019
Education
2013 – J.D., magna cum laude, University of Miami School of Law (Staff Editor, University of Miami Inter-American Law Review)
2009 – B.A. in Political Science/International Relations, high honors, University of Montana
Prior Experience (Employment)
2013-2016 – Associate Attorney, Morris, Laing, Evans, Brock & Kennedy, Chtd. (Wichita, Kansas)
2009-2010 – Network Operations Support Technician, Cutthroat Communications (Bozeman, Montana)
Honors & Awards
Best Lawyers – Ones to Watch – Litigation – Real Estate (2022, 2023)
Best Lawyers – Ones to Watch – Commercial Litigation (2022)
Dean's Certificate of Achievement Award – Legal Communication and Research (2010)
Dean's Certificate of Achievement Award – Civil Procedure (2010)
Dean's Certificate of Achievement Award – Financial Accounting for Lawyers (2011)
Dean's Certificate of Achievement Award – Constitutional Law (2011)
Dean's Certificate of Achievement Award – Business Associations (2011)
Billings Gazette 40 Under Forty: Standout Billings business leaders (2019)
Community Involvement
Federalist Society (2011 – present)
Pachyderm Club of Wichita (2013-2016)
Big Brothers and Big Sisters Bowl for Kids' Sake Team Member (2014 – 2016)
Young Professionals of Wichita, Enhance Committee (2015-2016)
Volunteer at Explorers Academy (Head Start) (2019 – 2020)
Crowley Fleck Pro Bono Family Mediation Project (2017 – present)
Guest Host, Montana Talks (2021 – present)
Mountain States Legal Foundation, Litigation Advisory Council
Professional Affiliations
Kansas Bar Association
Wichita Bar Association (2013-2016)
Florida Bar Association
Wichita Bar Association Young Lawyers Association (2013-2016)
Young Professionals of Wichita (2013-2016)
Republican National Lawyers Association
Presentations & Publications
Presenter, An Introduction to the Fair Credit Reporting Act: Liability of Furnishers (2016)
Reported Decisions / Cases
Galvin v. US Bank, N.A., 183 So. 3d 352 (Fla. 1st DCA 2015)
Kareem v. Ocwen Loan Servicing, LLC, No. 9:15-CV-80638, 2015 WL 7272765 (S.D. Fla. Nov. 18, 2015)
Caplinger v. Ocwen Loan Servicing, LLC, No. 8:14-CV-3214-T-35MAP, 2015 WL 12938920 (M.D. Fla. Dec. 29, 2015)
Knights of Columbus Council No. 668 v. Columbus Plaza, Inc., 2019 MT 184N, 397 Mont. 552, 455 P.3d 442
Montana Democratic Party v. Jacobsen, 2022 MT 184
Barnes v. 3 Rivers Tel. Coop., Inc, No. CV-21-118-GF-BMM, 2022 WL 3212100 (D. Mont. Aug. 9, 2022)
Thompson v. City of Bozeman, No. CV 18-75-BU-BMM, 2021 WL 960698 (D. Mont. Mar. 15, 2021)
Colvin v. Genesis Card Servs., No. CV 20-88-BLG-SPW, 2021 WL 243089 (D. Mont. Jan. 25, 2021)
Buckles v. BH Flowtest, Inc., 2020 MT 291, 402 Mont. 145, 476 P.3d 422
David has over 73 cases referenced on his attorney profile on Westlaw.