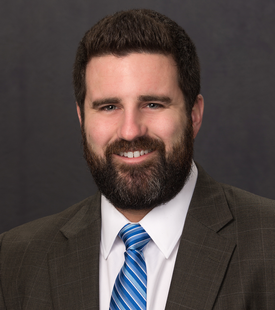 David F. Knobel
Office:
Billings
David F. Knobel is an Associate in the Litigation Department in the firm's Billings office. He works on all aspects of civil litigation in many areas of law, but focuses on commercial, tort, and real estate litigation. He regularly represents insurance companies, banks, credit unions, businesses of all kinds, farmers, ranchers, and individuals in cases involving breaches of contract, real estate disputes, negligence and other torts, bad faith, corporate and shareholder disputes, and state and federal statutes and regulations.
Prior to joining the firm in 2017, David spent years representing individuals, businesses, banks, creditors, servicers, trusts, government sponsored enterprises, and others in pre-litigation negotiation and settlement as well as trial and appeal in both state and federal courts across the country. He has handled everything from foreclosures and local code violations to various insurance disputes, quiet title actions, nuisance claims, and bankruptcy disputes. He has defended innumerable lawsuits based upon the Fair Credit Reporting Act, the Fair Debt Collection Practices Act, the Truth in Lending Act, the Real Estate Settlement Procedures Act, and various state statutes and common law theories. David has also prepared formal responses on clients' behalf to RESPA Qualified Written Requests, complaints to the Consumer Financial Protection Bureau, and complaints to state attorneys general.
David grew up in Manhattan, Montana, and is a fifth-generation Montanan. He earned his Bachelor of Arts in political science with high honors from the University of Montana, where he participated in the Model United Nations in New York City, studied abroad twice, interned for a U.S. Senator, and was actively involved in multiple organizations.
After graduating from college, David spent a year gaining experience in the business world by working in the network operations center of a communications firm in Bozeman, Montana before attending the University of Miami School of Law. There he served as staff editor on the University of Miami Inter-American Law Review, won numerous academic awards, and was selected to participate in the competitive Miami-Zurich Exchange Seminar, which involved spending a week in Zurich, Switzerland presenting on international business law issues. He also served as a Writing Dean's Fellow his second and third year of law school, helping first year law students with legal writing.
When not practicing law, David enjoys spending time in the outdoors and traveling internationally.
Practice Areas
Business Organizations
Litigation

Bankruptcy
Collections
Personal Property Foreclosures, Claim and Delivery, Replevin, and Injunctive Remedies
Real Property Foreclosures & Landlord-Tenant Disputes

Energy & Minerals Projects & Transactions

Intellectual Property & Technology – Litigation
Litigation

Labor & Employment
Advice and representation in employment litigation, including wrongful discharge and discrimination matters
Workers Compensation

Real Estate
Access, Title and Property Disputes
Condominium and Homeowners' Associations

Class Action Defense
Class action litigation
Common law bad faith
Coverage decisions
Insurance compliance
Medical Malpractice Defense
Negligence
Payment of insurance benefits
Personal Injury
Product Liability Defense
Products Liability
Professional negligence, including medical malpractice
Unfair Trade Practices Act
Bar Admission
Kansas Bar, 2014
Florida Bar, 2014
U.S. District Court, District of Kansas, 2014
U.S. District Court, Southern District of Florida, 2015
U.S. District Court, Middle District of Florida, 2015
Montana Bar, 2017
U.S. District Court, District of Montana, 2017
U.S. Court of Appeals for the Ninth Circuit, 2019
Education
2013 – J.D., magna cum laude, University of Miami School of Law (Staff Editor, University of Miami Inter-American Law Review)
2009 – B.A. in Political Science/International Relations, high honors, University of Montana
Prior Experience (Employment)
2013-2016 – Associate Attorney, Morris, Laing, Evans, Brock & Kennedy, Chtd. (Wichita, Kansas)
2009-2010 – Network Operations Support Technician, Cutthroat Communications (Bozeman, Montana)
Honors & Awards
Dean's Certificate of Achievement Award – Legal Communication and Research (2010)
Dean's Certificate of Achievement Award – Civil Procedure (2010)
Dean's Certificate of Achievement Award – Financial Accounting for Lawyers (2011)
Dean's Certificate of Achievement Award – Constitutional Law (2011)
Dean's Certificate of Achievement Award – Business Associations (2011)
Billings Gazette 40 Under Forty: Standout Billings business leaders (2019)
Community Involvement
Crowley Fleck Pro Bono Family Mediation Project (2017 – present)
Young Professionals of Wichita, Enhance Committee (2015-2016)
Big Brothers and Big Sisters Bowl for Kids' Sake Team Member (2014 – 2016)
Pachyderm Club of Wichita (2013-2016)
Volunteer at Explorers Academy (Head Start) (2019 – present)
Professional Affiliations
Kansas Bar Association
Wichita Bar Association (2013-2016)
Florida Bar Association
Wichita Bar Association Young Lawyers Association (2013-2016)
Young Professionals of Wichita (2013-2016)
Presentations & Publications
Presenter, An Introduction to the Fair Credit Reporting Act: Liability of Furnishers (2016)
Reported Decisions / Cases
Galvin v. US Bank, N.A., 183 So. 3d 352 (Fla. 1st DCA 2015)
Kareem v. Ocwen Loan Servicing, LLC, No. 9:15-CV-80638, 2015 WL 7272765 (S.D. Fla. Nov. 18, 2015)
Caplinger v. Ocwen Loan Servicing, LLC, No. 8:14-CV-3214-T-35MAP, 2015 WL 12938920 (M.D. Fla. Dec. 29, 2015)