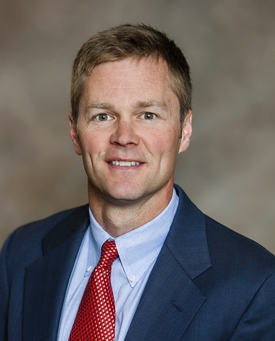 Ian McIntosh
Office:
Bozeman
Ian McIntosh, a fourth generation Montanan, is a Partner in the firm's Bozeman office. He graduated from the University of Montana School of Law, with honors, in May 1998 and from the University of Washington in 1993. Ian's practice primarily focuses on civil litigation defense including products liability, personal injury, and healthcare litigation. He has successfully tried cases to verdict in Montana and Wyoming for clients such as Wells Fargo, Hess Corporation, Big Sky Resort, and Ford Motor Company.
Ian has an "AV" rating from Martindale-Hubbell and has been named to the Top 100 Attorneys in the Mountain States, one of Montana's best litigators by Chambers and Partners, Best Lawyers in America, Super Lawyer in the Mountain States and a Litigation Star in Benchmark's Litigation, the Guide to America's Leading Litigation Firms and Attorneys.
Practice Areas
Class Action Defense
Common law bad faith
Coverage decisions
Medical Malpractice Defense
Negligence
Payment of insurance benefits
Personal Injury
Product Liability Defense
Products Liability
Professional negligence, including medical malpractice
Unfair Trade Practices Act
Bar Admission
Montana, 1998
Supreme Court of Montana, 1998
9th Circuit Court of Appeals, 2003
Education
1998 – J.D. with Honors, University of Montana
1993 – B.S. in Accounting, University of Washington
Honors & Awards
Super Lawyers Top 100 Attorneys in the Mountain States
AV Preeminent Rating by Martindale-Hubbell
Best Lawyers in America for Product Liability Litigation – Defendants
Best Lawyers' 2014 Product Liability Litigation-Defendants "Lawyer of the Year" in Billings
Chambers USA – Montana's Best Litigators
Chambers USA – Leading Lawyers in Litigation: General Commercial
Mountain States Super Lawyers for Personal Injury – Products: Defense
Mountain States Super Lawyers Rising Star
Benchmark Litigation – Montana's Local Litigation Star
Community Involvement
American Whitewater Volunteer
Professional Affiliations
Certified Public Accountant (Inactive)
Gallatin County Bar Association
State Bar of Montana
Member, Association of Ski Defense Attorneys
Reported Decisions / Cases
Ian has tried jury trials to verdict throughout Montana and Wyoming and has argued before the Montana Supreme Court and the 9th Circuit Court of Appeals.
Moore v. Wells Fargo (2018) – Obtained jury verdict far below offer of judgment in admitted liability trial for national bank.
Kopeikin v. Moonlight Basin Management, LLC, 2015 WL 518865 – Obtained summary judgment in favor of ski resort on personal injury claim. Affirmed after oral argument at the Ninth Circuit Court of Appeals in 2017 (unpublished).
Byorth v. USAA Cas. Ins. Co., 385 Mont. 396, 384 P.3d 455 (Mont. 2016) – Obtained reversal of district court's certification of class action.
Tomahawk v. Hess Corp., Wyoming 2015 – Obtained favorable jury verdict for Hess in Wyoming federal court on claims for breach of contract and bad faith.
Denton v. First American Title Ins. Co., 2015 MT 155N – Successfully upheld summary judgment in favor of title insurer on abuse of process claim.
Willink v. Boyne USA, Inc., 987 F. Supp. 2d 1082 (D. Mont. 2013) – Obtained defense verdict on behalf of Big Sky Resort after jury trial in ski lift unloading accident.
Kovak v. Ford Motor Co., 2014 WL 1320693 – Represented automobile manufacturer in wrongful death claim and challenged jurisdiction when vehicle at issue was not sold in Montana.
Nelson v. Hartford Ins. Co. of the Midwest, 570 Fed.Appx 695 (9th Cir. 2014) – Obtained summary judgment on bad faith claims. Affirmed after oral argument at the Ninth Circuit Court of appeals.
Meadow Brook, LLP v. First American Title Ins. Co., 375 Mont. 509, 329 P.3d 608, 2014 MT 190 – Defended title insurer in title coverage litigation.
BancInsure, Inc. v. First Interstate Bank – Represented bank in insurance coverage litigation in Montana federal district court.
Harpole v. Powell County Title Co., 371 Mont. 543, 309 P.3d 34, 2013 MT 257 – Successfully upheld order granting summary judgment in favor of title insurer.
Harris v. St. Vincent Healthcare, 371 Mont. 133, 305 P.3d 852, 2013 MT 207 – Obtained dismissal of class action claims against hospital, upheld on appeal.
Conway v. Benefis Health System, Inc., 309 Mont. 309, 297 P.3d 1200, 2013 MT 73 – Prepared amicus brief on behalf of Montana hospitals to obtain reversal of class certification by district court.
Stokes v. Ford Motor Co., 368 Mont. 365, 300 P.3d 648, 2013 MT 29 – Obtained unanimous defense jury verdict in favor of automobile manufacturer, upheld on appeal.
Stokes v. Montana Thirteenth Judicial Dist., 361 Mont. 279, 259 P.3d 754, 2011 MT 182 – Argued before the Montana Supreme Court regarding the application of Montana's statute excluding seat belt use in civil litigation.
Caddell v. Helena Elder Housing, Inc., 494 Fed.Appx. 809 (9th Cir. 2012)
Abbey v. Chubb Corp., 274 Fed.Appx. 548 (9th Cir. 2008) – Obtained summary judgment for insurer on multimillion dollar coverage and bad faith claim. Affirmed after oral argument at the Ninth Circuit Court of Appeals.
Sherner v. National Loss Control Services Corp., 329 Mont. 247, 124 P.3d 150 (2005)
Blain v. Stillwater Mining Co., 321 Mont. 403, 92 P.3d 4 (2004)
DuBray v. Farmers Ins. Exchange, 307 Mont. 134, 36 P.3d 897 (2004)
Weaver v. Delta Airlines, Inc., 56 F.Supp.2d 1190 (D. Mont. 1999)