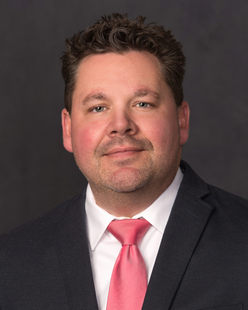 Kevin P. Heaney
Office:
Billings
Kevin is a trusted legal advisor, not just another lawyer. Some see lawyers as commodity service providers who enter the game late to "paper" a deal or help with a legal emergency. You can move beyond that Band-Aid approach and establish a competitive advantage by finding a lawyer who understands your business, listens, has good judgment, and is a strong teammate. Those qualities come from experience, a diverse commercial legal skillset, and communicating like a businessperson, not a lawyer. Kevin is a creative legal advisor with an ideal blend of business and legal experience, whose sound advice generates a synergy with his clients. Kevin's business experience stems from his education, ongoing personal business ventures, and outside general counsel roles. His legal expertise in business transactions, contracts, real estate, and commercial finance comes from nearly two decades of helping businesses confront and solve problems.
Making deals is an integral component of running a business. Kevin understands the balance between negotiating a solid agreement and over-lawyering, the latter of which can needlessly break a deal. Striking that balance requires assertiveness, not aggressiveness, perseverance, and the resourcefulness to find alternatives. That approach allows businesses to finish deals and focus on what is important – running the business. Kevin can handle a large project, the occasional legal matter, or fill an outside general counsel role, having served in that capacity for many years for one of Montana's largest organizations and for a statewide insurance company. His diverse experience includes buying and selling businesses, real estate transactions, financial product design, complex commercial leasing arrangements, drafting contracts, corporate restructuring, workouts, and foreclosures.
A fifth generation Montanan, Kevin spent his youth in the colorful Goosetown neighborhood in Anaconda. Before beginning his legal career, Kevin was a financial analyst for a music distributor and a strategic consultant for a multinational firm. Kevin and his wife have twins and spend their free time enjoying Montana.
Practices and Industries
Business Transactions
A business undertaking a complex transaction needs a legal advisor who can work intimately with the business team from start to finish and navigate roadblocks as they arise. Kevin handles a wide range of business transactions, from simple to complex.
Contracts
Most contracts suffer from the affliction of traditional drafting: archaisms, redundancy, overlong sentences and confusing terminology. Not Kevin's contracts. Using modern drafting, Kevin prepares contracts that are concise and clear to lawyers and business people alike.
Real Estate
Real estate law includes traditional legal disciplines like purchasing, selling, and leasing real estate, as well as finance, contract, corporate, environmental, bankruptcy, land use, zoning, insurance, tax, construction and public law. Kevin's strong working knowledge of each discipline can make him an integral part of the deal team.
Commercial Finance
Commercial finance law comprises a blend of banking, finance, creditors' rights and bankruptcy law. Kevin can handle these matters on the front-end (financing structure, financing opinions, loan documents, transaction documents), in the middle (modifications, refinancing, workouts) or on the back-end (UCC sales, foreclosures, bankruptcies, liquidations).
Outside General Counsel
Businesses that engage outside general counsel typically do not have in-house counsel, but need regular legal support and do not wish to hire a full-time in-house lawyer. In his role as outside general counsel, Kevin typically receives the first call when business issues with legal implications arise. Kevin is effective in that role because he has a strong working knowledge of multiple legal disciplines and collaborates well with business executives. Another benefit of an outside general counsel relationship is the seamless access to the entire Crowley Fleck team. If you are curious about how this innovative approach to legal services can help your business, contact Kevin and he can share his experiences. Regarding innovation, outside general counsel relationships are amenable to alternative fee arrangements.
Practice Areas
Mergers and Acquisitions of Financial Institutions

Business Organizations
Governance
Mergers, Acquisitions & Other Business Transactions

Commercial Real Estate Acquisition, Sales and Leasing
Bar Admission
Montana
United States District Court, District of Montana
United States Bankruptcy Court, District of Montana
Crow Tribal Court
Northern Cheyenne Tribal Court
Education
JD, University of Montana, with Honors
MBA University of Montana, with Honors
BS in Business Administration (Finance) and Economics, University of Montana with Highest Honors
Prior Experience (Employment)
Former Adjunct Professor of Business Law, Montana State University – Billings, School of Business
Honors & Awards
American College of Mortgage Attorneys, Fellow
American College of Commercial Finance Attorneys, Fellow
American College of Real Estate Lawyers, Fellow
AV Preeminent Rating by Martindale-Hubbell
Chambers USA, America's Leading Business Lawyers – Real Estate Law (2009-2012, 2016-present)
Best Lawyers in America (2012-present):
• Banking and Finance Law
• Business Organizations (including LLCs and Partnerships)
• Commercial Finance Law
• Corporate Law
• Corporate Governance Law
• Economic Development Law
• Mortgage Banking Foreclosure Law
Best Lawyers' "Lawyer of the Year", Billings, MT – Banking and Finance Law (2015, 2021, 2023)
Best Lawyers' "Lawyer of the Year", Billings, MT – Business Organizations (2023)
Mountain States Super Lawyers – Top 100 (2019, 2020, 2021)
Mountain States Super Lawyers for Business/Corporate (2012-present)
Mountain States Super Lawyers Rising Stars for Business/Corporate (2011)
Super Lawyers Business Edition for Business and Transactions (2015)
Graduate of Leadership Billings, Leadership Montana and Leadership Billings Clinic Programs
Irish Legal 100 (2015)
Billings Gazette 40 Under 40 in Billings Business
Community Involvement
City of Billings Parking Board – Current Board Member
Centennial Youth Foundation – Board of Trustees Member
United Way of Yellowstone County – Former Board Member
Parmly Billings Library Foundation – Former Board Member
Billings Preservation Society – Former Board Member
Professional Affiliations
Risk Management Association
State Bar of Montana
American Bar Association – Banking Law and Uniform Commercial Code Sections
Yellowstone Area Bar Association
Lex Mundi Real Estate Practice Group
Presentations & Publications
Montana Purchase and Sale Issues for Buyers, Practical Real Estate Lawyer, Vol. 34, No. 6 (Nov. 2018)