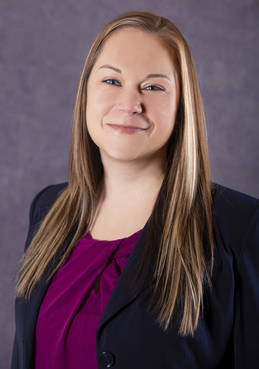 Lisa M. Hettich
Office:
Williston
Originally from Sidney, Montana, Lisa M. Hettich came back to the Bakken region to establish her home in western North Dakota, where she is a Partner in the firm's Williston office. Lisa has maintained her civil litigation practice in Williston since starting as an associate attorney with the firm in the fall of 2012. Before then, Lisa interned in the Williston office during the summers of 2010 and 2011 – some of those years in "Boomtown, USA" when it was hard to remember whether you were coming or going! Those summer experiences made Lisa realize that she enjoyed the fast-paced environment, the types of work available, and the clients to be served. It became clear early on that Williston was a more than suitable location to carry out her and the firm's goal – to do great work for great clients; a goal that Lisa takes to heart, keeps in front of her, and strives to exceed in every matter for every client, every day.
She always knew she wanted to be a lawyer. Thinking criminal law would be her path, Lisa graduated summa cum laude with a Bachelors of Science in Criminal Justice Studies in December of 2008 from the University of North Dakota. Lisa went on to intern in the United States Senate in Washington, DC, before starting law school. She then received her Juris Doctorate with highest honors from Drake University Law School in May of 2012, where she was a member of the Order of the Coif. While in law school, Lisa was very involved in the opportunities available to her beyond the rigors of the classroom, which are detailed in turn below. In particular, she was able to serve as a student extern to the Honorable Edward M. Mansfield, Justice of the Iowa Supreme Court, as well as a student intern with Joe Bolkcom, Senator of the Iowa State Senate.
Lisa has always found it important to use her God-given talents to work to right wrongs and aid those who cannot or do not know how to help themselves. Her passion to excel in helping others coupled with her "go get 'em" attitude have served Lisa well in her professional endeavors in a comparatively-short period of time. She has extensive experience in both state and federal courts in a variety of litigation matters, including breach of contract disputes, breach of trust actions, breach of warranty claims, collections, contested guardianship and probate proceedings, creditors' rights (executions, garnishments, and sheriff's sales), defense of personal injury and wrongful death, involuntary dissolutions, landlord-tenant disputes, lien foreclosures (construction, mobile home, oil and gas well, and repairman's liens), mediations, partitions, quiet title actions, real property disputes, replevins, and tort litigation. She has tried successful jury trials in both state and federal courts. Lisa also has experience in appellate practice, taking cases to the supreme courts of both North Dakota and Montana for consideration.
Practice Areas
Business Organizations
Litigation

Construction Law
Construction Defects
Lien and Bond Claims

Creditors' Rights & Bankruptcy
Collections
Personal Property Foreclosures, Claim and Delivery, Replevin, and Injunctive Remedies
Real Property Foreclosures & Landlord-Tenant Disputes

Real Estate
Access, Title and Property Disputes

Tort Litigation
Negligence
Personal Injury
Product Liability Defense

Trusts & Estates
Fiduciary Obligations and Estate and Trust Litigation
Probate, Estate and Trust Administration
Bar Admission
2012 – North Dakota
2012 – U.S. District Court District of North Dakota
2013 – Montana
2014 – Iowa (inactive)
Education
2016 – Certificate of Completion – Building Trial Skills, National Institute for Trial Advocacy Training (6 day in-person program)
2015 – Certificate of Completion – Deposition Skills, National Institute for Trial Advocacy Training (3 day in-person program)
2012 – J.D. with Highest Honors, Drake University Law School
2008 – B.S.C.J.S., University of North Dakota, summa cum laude
Honors & Awards
Great Plains Super Lawyers – Rising Star (2018-2022)
Order of the Coif
Drake Law Review – Research Editor
Community Involvement
Williston Community Library – Board of Trustees
Williston Area Chamber of Commerce – Graduate of "Leadership Williston" Program
Williston Area Chamber of Commerce – Former Member of Leadership & Education Committee and "Lemonade Day Williston" Subcommittee
Professional Affiliations
American Bar Association
Defense Research Institute
Fort Union Inns of Court
North Dakota Defense Lawyers Association – President
North Dakota Supreme Court Joint Procedure Committee
State Bar Association of North Dakota
State Bar of Montana
Upper Missouri Bar Association – Former President & Former Secretary/Treasurer
Presentations & Publications
Student Contributor, Criminal Law Newsletter, Drake Legal Clinic Criminal Defense Program (2011-2012)
Student Editor, Criminal Law Newsletter, Drake Legal Clinic Criminal Defense Program (2010-2011)
Reported Decisions / Cases
Troubadour Oil & Gas v. Rustad, et al., 2022 ND 191 – on brief and argued – writ of supervision granted – disclosing a client or client representative as an expert witness is not a per se waiver of any privileges – state discovery rules relating to work product do not apply to discovery of an expert's information
Johnson v. Menard, Inc., 2021 ND 19 – on brief and argued – contrary to NDCC 28-27-29.1, motion for judgment as a matter of law under NDRCivP 50(a) must be renewed under NDRCivP 50(b) to preserve appeal – amending complaint for recovery of more than $15,000 after case is removed from small claims court does not preclude attorneys' fees award under NDCC 27-08.1-04
Three Aces Properties, LLC v. United Rentals, Inc., 2020 ND 258 – on brief and argued – as a matter of first impression, the lesser amount of cost of repair and diminution in value is the measure of damages for commercial tenant's breach of contractual duty to maintain and repair
Devore v. American Eagle Energy Corporation, et al., 2020 ND 23, 937 N.W.2d 503 – on brief – applying non-liability of employer for negligence of independent contractor to determine oil well operator not responsible for negligence of employee of water transfer company, which company contracted with operator for the work
Palmer, et al. v. Gentek Building Products, Inc., 2019 ND 306, 936 N.W.2d 552 – on brief and argued – state court had jurisdiction to hear warranty claim under Magnuson-Moss Warranty Act and make attorneys' fees award regardless of prior class action because warrantor could not prove notice was given to plaintiffs who were "known claimants," which was required notice in the class action; thus, claimants were not parties to the class action and were not bound thereby
Frontier Fiscal Services LLC v. Pinky's Aggregates, Inc., et al., 2019 ND 147, 928 N.W.2d 449 – on brief – affirmance of summary judgment enforcing personal guaranty because consideration is any benefit conferred or detriment suffered
Arnegard, et al. v. Arnegard Township, 2018 ND 80, 908 N.W.2d 737 – on brief and argued – CUP, alone, is not a contract – political subdivision has no duty to disclose validly-enacted ordinance or amendment if statute was followed when enacting it – CUP, alone, does not create a protected property interest for purposes of a due process analysis under the state or federal constitutions
Matter of Estate of Nohle, 2017 ND 100, 893 N.W.2d 755 – on brief and argued – affirmance of district court's denial of a motion to modify a court-ordered distribution of an estate when motion brought more than 50 years after order of distribution entered and effected
Matter of Estate of M.D., 2017 MT 22, 388 P.3d 954 – on brief (no argument granted) – matter of first impression concluding that son, on these particular facts, was not disqualified as mother's guardian under section 72-5-312(1), Mont. Code Ann.
In re Guardianship of R.G., 2016 ND 96, 879 N.W.2d 416 – on brief and argued – order appointing a conservator and guardian is appealable without Rule 54, N.D.R.Civ.P., certification – courts have discretion to pass over most recently-nominated person in durable power of attorney and appoint another conservator or guardian if the court finds good cause for doing so
Cheetah Properties 1, LLC v. Panther Pressure Testers, Inc., 2016 ND 102, 879 N.W.2d 423 – on brief and argued – a wilful holding over by a tenant must be intentional and not inadvertent – if the court invites briefing on an issue without objection in summary proceedings, the court must resolve the issue with reasoned legal analysis
Moody, et al. v. Sundley, 2015 ND 204, 868 N.W.2d 491 – on brief and argued – every element of adverse possession must be satisfied to confer title – implied amendments to a pleading are accomplished where evidence introduced varies the theory of the case and is not otherwise relevant to any other issue pleaded
In re Estate of Cashmore, 2013 ND 150, 836 N.W.2d 427 – on brief – contempt as a sanction requires the contemnor receive notice and hearing – verified, sworn statements to close are of no effect if outstanding claim is known to and not acknowledged by personal representative