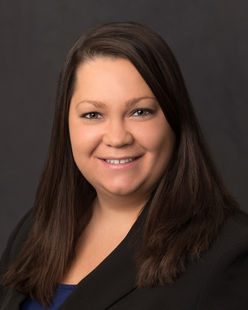 Pamela C. Garman
Office:
Billings
Pamela Garman is an Partner in the firm's Billings office. Pamela's practice focuses on natural resource and commercial litigation. She has experience with assisting clients in performing environmental cleanup agreements, ensuring compliance with applicable requirements for remediation, and with complex environmental and commercial litigation.
Prior to joining the firm, Pamela served for two years as a law clerk to the Honorable Carolyn S. Ostby, for the United States District Court in the District of Montana. Pamela received her undergraduate degree from Lewis & Clark College in 2011, and graduated with honors from the University of Montana School of Law in 2014. While in law school, Pamela served as the Executive Editor of the Montana Law Review, competed on the National Moot Court team, and served as vice-president of the Women's Law Caucus.
Pamela currently serves on the editorial board for the American Bar Association Young Lawyers Division flagship publication, TYL, as a managing editor.
Practice Areas
Energy & Minerals Projects & Transactions

Oil and Gas
Environmental
Litigation

Renewable Energy
Permitting and Environmental

Mining – Hard Rock, Coal and Industrial Minerals
Litigation and Administrative Proceedings
Bar Admission
Montana, 2014
Education
2014 – J.D., University of Montana School of Law, with honors
2011 – B.A., Lewis & Clark College
Honors & Awards
Best Lawyers – Ones to Watch – Commercial Litigation – 2022
Professional Affiliations
Montana State Bar
Yellowstone Bar Association
ABA Young Lawyers Division—Legal Innovation Committee Member (2018–2019 term).
TYL (The Young Lawyer)—Editorial Board, Associate Editor (2018–2019 term).
Big Horn REA—Scholarship Committee.
Presentations & Publications
Pamela Garman and Casey Terrell, Technology and Ethics: Tips for the Tech-Averse in Effectively Managing ESI in Federal Court, TYL Vol. 24, No. 3 (Spring 2020).
Chris Stoneback and Pamela Garman, When Historic Resources and Hazardous Substances Collide, ABA Natural Resources & Environment, Vol. 34, No. 3 (Winter 2020).
Peter Habein and Pamela Garman, Professional Conduct Rules Require Technological Competence? Welcome to Twenty-First Century Law Practice, 23 TYL, no. 2, at 12 (Winter 2019).
Chris Stoneback and Pamela Garman, Chevron Collapses a CERCLA Artifice: Owner Means Owner Even For The United States, 13 ABA Superfund and Natural Resource Damages Litigation Committee Newsletter, 10 (January 2018).
Business Torts: A Fifty-State Guide (Montana Chapter) (Wolters Kluwer 2016 and 2017 editions), co-author.
Recent Decisions Affecting the Montana Practitioner: Reichert v. State ex rel. McCulloch, 74 Mont. L. Rev. 225, 232 (2013).
Recent Decisions Affecting the Montana Practitioner: Malpeli v. State, 74 Mont. L. Rev. 459, 464 (2013).