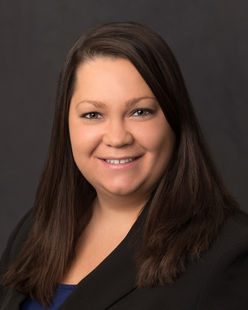 Pamela C. Garman
Office:
Billings
Pamela Garman's practice focuses on natural resource and commercial litigation. She has handled CERCLA and toxic tort matters, as well as assisted clients in performing environmental cleanups. She is experienced in representing clients in complex litigation, particularly those matters with extensive discovery. She is committed to providing clients with the leading solutions in eDiscovery in the matters she handles by leveraging various forms of technology for efficient, defensible, and cost-effective solutions throughout the discovery process.
Pamela currently serves as Co-Chief Information Security Officer and Privacy Officer for the firm, and is a Partner in the Billings Office. In addition to the litigation aspects of her practice, she is able to assist clients with their information security program development. Pamela's eDiscovery and information governance knowledge allows her to work proactively with clients to minimize risk and utilize technology to better manage their vital business data and comply with applicable industry regulations. She can assist with implementation of pre-incident services, including development of information privacy/cybersecurity policies and incident response plans, as well as post-data breach response, incident management, and data breach litigation.
Pamela was named on the Best Lawyers Ones to Watch list for Commercial Litigation in 2022. She currently serves on the editorial board for the American Bar Association Young Lawyers Division flagship publication, TYL, as a managing editor. Pamela is a Certified Information Privacy Professional (CIPP/US) and Certified Information Privacy Manager (CIPM) by the International Association of Privacy Professionals. Prior to joining the firm, Pamela served for two years as a law clerk to the Honorable Carolyn S. Ostby, for the United States District Court in the District of Montana. Pamela received her undergraduate degree from Lewis & Clark College in 2011, and graduated with honors from the University of Montana School of Law in 2014.
Practice Areas
Oil and Gas
Environmental
Litigation

Information Privacy and Cybersecurity

Litigation and Administrative Proceedings

Permitting and Environmental

Natural Resources and Environmental Law
Bar Admission
Montana, 2014
Education
2014 – J.D., University of Montana School of Law, with honors
2011 – B.A., Lewis & Clark College
Honors & Awards
Best Lawyers – Ones to Watch – Commercial Litigation (2022-Present)
ABA SEER Leadership Development Program, Class of 2020
Billings Gazette, 40 under Forty award recipient (2020)
Professional Affiliations
Montana State Bar
Yellowstone Bar Association
ABA Young Lawyers Division—Legal Innovation Committee Member (2018–2019 term).
TYL (The Young Lawyer)—Editorial Board, Associate Editor (2018–2019 term).
Presentations & Publications
Lara D. Guercio and Pamela Garman, From East to West: Leveraging Liability Exemptions for Redeveloping Rural Superfund Sites, ABA Natural Resources & Environment, Vol. 36, No. 4 (Spring 2022).
Pamela Garman and Elí Salomón Contreras, Roll Up Your Sleeve and Get Out There (Providing Pro Bono Services), TYL Vol. 25, No. 4 (Summer 2021).
Pamela Garman and Casey Terrell, Technology and Ethics: Tips for the Tech-Averse in Effectively Managing ESI in Federal Court, TYL Vol. 24, No. 3 (Spring 2020).
Chris Stoneback and Pamela Garman, When Historic Resources and Hazardous Substances Collide, ABA Natural Resources & Environment, Vol. 34, No. 3 (Winter 2020).
Peter Habein and Pamela Garman, Professional Conduct Rules Require Technological Competence? Welcome to Twenty-First Century Law Practice, 23 TYL, no. 2, at 12 (Winter 2019).
Chris Stoneback and Pamela Garman, Chevron Collapses a CERCLA Artifice: Owner Means Owner Even For The United States, 13 ABA Superfund and Natural Resource Damages Litigation Committee Newsletter, 10 (January 2018).
Business Torts: A Fifty-State Guide (Montana Chapter) (Wolters Kluwer 2016 and 2017 editions), co-author.
Recent Decisions Affecting the Montana Practitioner: Reichert v. State ex rel. McCulloch, 74 Mont. L. Rev. 225, 232 (2013).
Recent Decisions Affecting the Montana Practitioner: Malpeli v. State, 74 Mont. L. Rev. 459, 464 (2013).